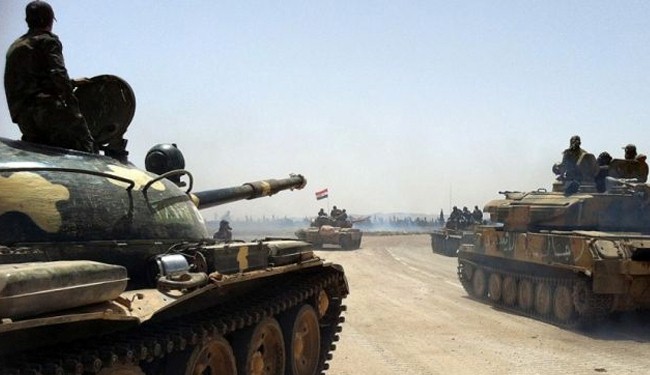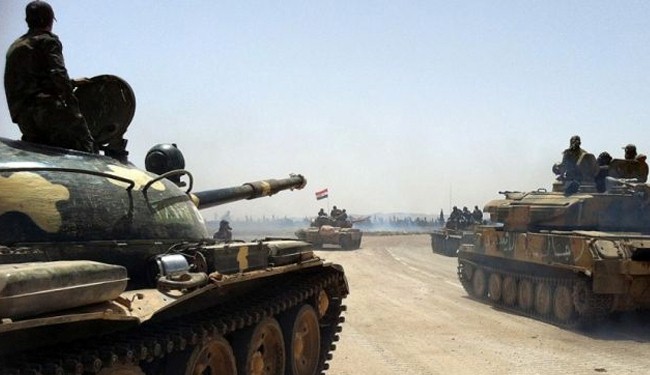 Syria's army has carried out operations against terrorists' gatherings, killing dozens of armed terrorists and destroying their weapons and equipment in several areas around the country.
The army units targeted and killed scores of terrorists, many of them of foreign nationalities, in a series of operations in many areas in Damascus countryside, official news agency SANA reported on Wednesday.
The army forces destroyed a terrorists' hideout in al-Shifounyeh area in Duma and destroyed two vehicles equipped with 23 mm anti-aircraft machineguns in the area of Erbeen.
An army unit targeted a terrorists' gathering in the area of Yalda and killed scores of the terrorists. Another army unit killed 15 terrorists in an ambush between Housh Blas and al-Sbeineh.
In the area of Khan al-Sheeh, the army eliminated dozens of terrorists. Among them was Mohammad Fayeq Abdul-Hai from Chad.
Another successful clash with terrorists erupted in the area of al-Jam'yat. The army eliminated scores of terrorists in the areas of al-Qaboun and al-Qadam.
Army units killed a number of terrorists and injured others in the villages and towns of Kuwairis, Erbid, Jdaideh, al-Zarzour, Kaffin, A'azaz, Mayer, Hreitan and Oram in Aleppo countryside.
Other units destroyed terrorists' cars along with the weapons and ammunition near Aleppo Central Prison, the industrial city, Faffin, Deir Haffer, Hazwan, al-Bab and on the Castello road.
Large numbers of terrorists were killed in a series of army operations targeting their hideouts and gatherings in Khan al-Asal, Kafr Naha, Maaret al-Artiq, and al-Mansoura.
A military source said that the army clashed with armed terrorists groups in the area of Daraa al-Balad and killed scores of them.
An army unit foiled the attempt of an armed terrorist group to infiltrate Zamreen town from Um al-Aousaj town, killing and injuring all of its members.
Army units also destroyed weapons cache and terrorists' dens, some belong to the so called the Islamic State in Iraq and the Levant (ISIL) in Homs, killing many terrorists who attempted to attack al-Rastan Dam guarding personnel.
A military source said that the army units seized a vehicle loaded with large amounts of ammunition in the area of al-Siqailbyeh in Hama countryside.