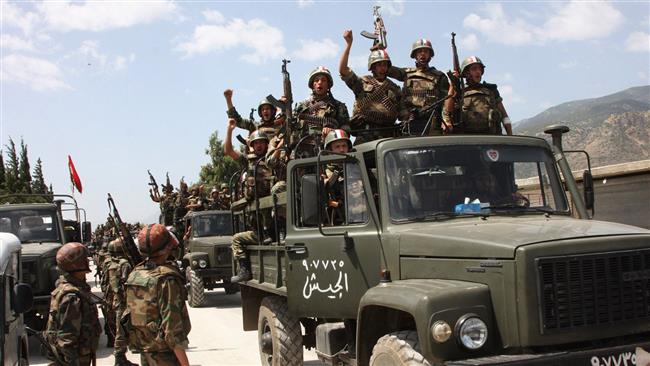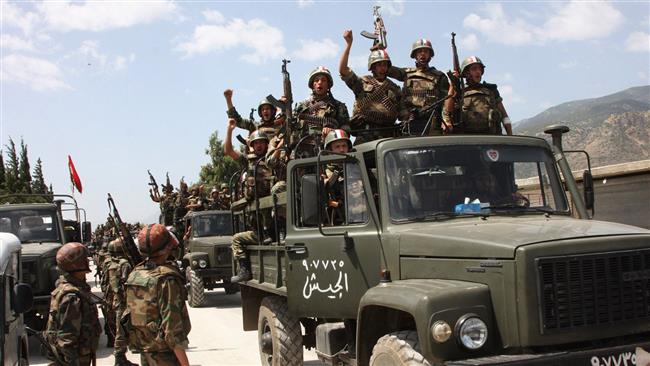 Syrian army forces along with fighters belonging to the Lebanese resistance movement, Hezbollah, are preparing for a battle to gain full control of the eastern Lebanon mountain range and to purge the strategic area of ISIL militants.
According to security sources, the military arrangements for the battle for the eastern mountain range near the border with Syria have almost finished, the Beirut-based English-language newspaper Daily Star reported.
The sources said that the Syrian army has brought a number of rocket launchers, artillery batteries and cannons and has deployed them in strategic areas and hills in the Syrian town of Zabadani, close to the border with Lebanon.
Meanwhile, Hezbollah is also to mobilize its fighters for an offensive against ISIL and Al Nusra Front terrorists in Syria's Qalamoun region.
Syria has been grappling with a deadly crisis since March 2011. The violence fueled by Takfiri groups has so far claimed the lives of over 222,000 people, according to the so-called Syrian Observatory for Human Rights.
The United Nations High Commissioner for Refugees (UNHCR) says over 7.2 million people have also been internally displaced, and more than 3 million fled the country.
Over the past months, Lebanon has witnessed an increase of militant activity on the border with Syria, suffering from attacks by al-Qaeda-affiliated militants as well as Takfiri ISIL terrorists.
On Wednesday, six Hezbollah fighters were reportedly killed in an ambush by the Al Nusra Front in Syria's Qalamoun region near the border with Lebanon when militants targeted their vehicles.