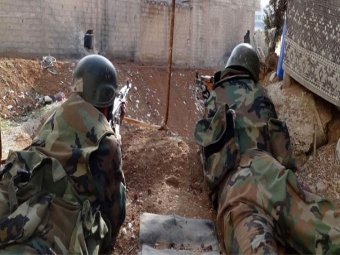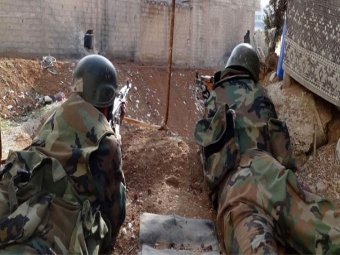 Syrian Arab Army has carried out today morning, August 10, a series of accurate operations that eliminated dozens of fighters of Al-Qaeda-in the south of the country, while other units also repelled attacks conducted by militias on some of army's points in Idlib countryside.
Army strikes Al Qaeda headquarters south of Syria
The Tunisian leaders of al-Nusra Front, Naef al-Ashkan, Mohammad al-Ateiba and the Jordanains Mohammad Abdullah al-Zour, Hussein Khdre and the Sauids Mishaal Fahd al-Tarifa and Mohamed Hekmat al-Masalmeh of "Liwaa al-Tawhid" have been killed after operations in Daraa countryside.
SANA news agency reported that "units of the army targeted dens of terrorists in Daraa al-Balad, Tal Shihab, Niwa, al-Jbeila, Tseil, Saida al-Golan and Inkhil in Daraa countryside, killing several terrorists and destroying their weaponry".
Army's operations in Daraa and its countryside destroyed several hideouts equipped with weapons and munitions and confiscated about 30 anti-tank mines, the agency reported.
Army confronts "Free Army" militia in Idlib countryside
Syrian Arab Army units confronted an armed group which attempted to attack military posts in Kafr Shlaya in Idlib countryside, killing a number of terrorists and injuring many others, while the rest of terrorists managed to escaped.
SANA news agency confirmed that "units of the army targeted terrorists' hideouts and gatherings in Bdama, Arnaba, Sarakeb, Taftanaz, Sheikh Yousef, Benish, Maraat al-Numan and Kfar Roma, killing a number of terrorists and destroying their weapons and equipment".
A car bomb exploded near Hama
Two citizens were martyred; a woman and a child were injured in a blast of an explosive device planted by terrorists in al-Sfeira area in the eastern countryside of Aleppo.
Four citizens martyred in car bomb blast in Hama countryside
SANA news agency reported that "a suicide bomber driving a car packed with explosives blew himself up on al-Naqour-al-Bahseh road in the countryside of Hama, killing four citizens and injuring others".
The agency added that "the car bomb exploded near al-Thawra farm on al-Naqour-al-Bahseh road, causing the martyrdom of four citizens and the injury of others, in addition to material damage in the site".