Syria
Syria army troops deal hard blows to Takfiri terrorists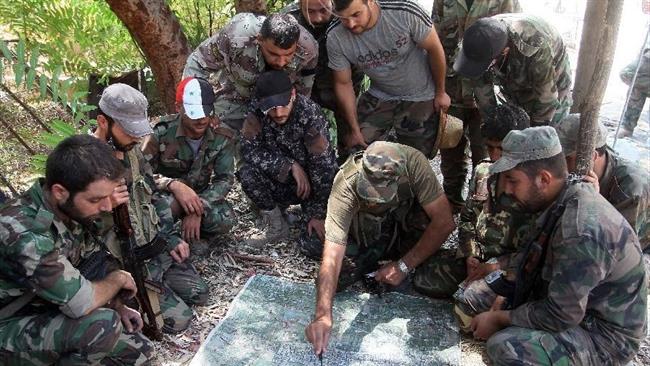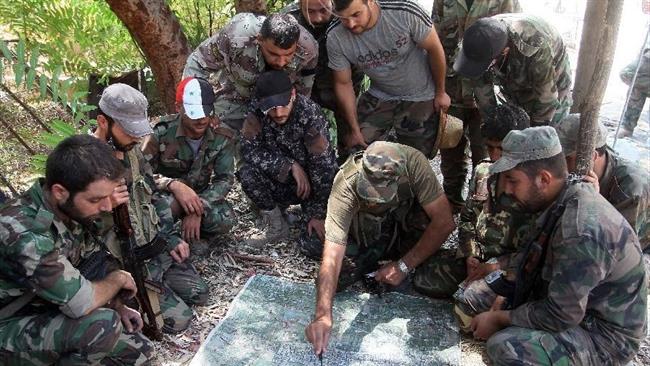 Government forces have killed dozens of foreign-backed Takfiri militants during a series of mop-up operations across Syria, the official SANA news agency says.
Military sources said Syrian army soldiers killed 14 members of the Jaysh al-Islam terrorist group during separate offensives in the Marj al-Sultan and al-Nashabiyeh villages near the capital.
Syrian army forces also launched an operation in the Jobar district of Damascus, killing 16 Jaysh al-Islam militants.
An unspecified number of Takfiri militants were killed as Syrian government forces raided a terrorist hideout in the town of Arbeen.
Elsewhere in the towns of al-Hadath and Hawarin in the western province of Homs, Syrian fighter jets attacked Daesh positions, destroying several pickup trucks with heavy machine guns mounted on them and a sizable cache of munitions.
Syrian military aircraft also pounded Daesh bases on the outskirts of the ancient city of Palmyra, located 215 kilometers (133 miles) northeast of Damascus, killing a large number of the extremists and destroying their ammunition.
Additionally, nearly 20 Takfiri terrorists were killed when Syrian government troops launched a string of operations in the western-central province of Hama.
At least 10 terrorists with the al-Qaeda-affiliated al-Nusra Front militant group were killed as Syrian troops carried out an operation in the city of Jisr al-Shughour, located about 330 kilometers (200 miles) north of the capital.
There are also reports that Syrian army troops have established full control over the town of Me'ratah in Syria's northern province of Aleppo, and partially seized the highway linking the strategic city of Aleppo to the capital.
The foreign-sponsored conflict in Syria, which flared in March 2011, has claimed the lives of more than 250,000 people and left over one million injured, according to the United Nations (UN).
The world body says 12.2 million people, including more than 5.6 million children, remain in need of humanitarian assistance in Syria. The foreign-sponsored militancy has displaced 7.6 million people.