Syria
Syria Carries Out Annan's Plan, Countries that Provide Terrorists with Money and Arms Should Stop this Support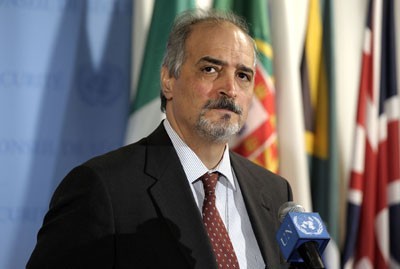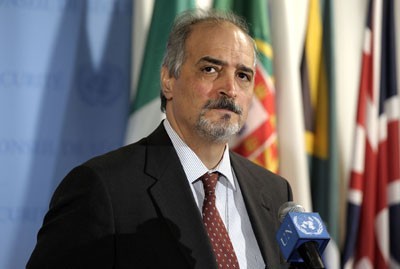 Syria's Permanent Representative to the UN , Bashar al-Jafari, said that the work of the observer mission is on the right path, yet the type of crimes committed by the armed terrorist groups became more worse.
Speaking at the UN headquarters in New York, al-Jafari said that Syria is implementing its pledges under the plan of the UN Special Envoy to Syria Kofi Annan, but those sides which support terrorists with money and arms from Saudi Arabia, Qatar and Turkey are not, adding that these countries should stop their support to the armed terrorist groups.
Al-Jafari added that the armed terrorist groups are committing crimes against civilians and military members, indicating that confessions of 26 Arab people who were arrested in Syria revealed that they came from Libya, Tunisia and other countries through Turkey and Lebanon to launch terrorist attacks in Syria.
He said that the Syrian security forces killed 15 members of those Takfiri and Salafi groups, adding that "Therefore, we are talking about facts that cannot be denied regarding the involvement of foreign fighters in the events in Syria which is a very serious issue."
Al-Jafari added that the sheikhs who issued fatwas calling for murdering and committing crimes live in Saudi Arabia and Qatar.
Al-Jafari reiterated the Syrian government's commitment to guarantee the utmost degrees of success for Annan's mission, saying "but the Syrian government can't do this alone.. we are in need for the participation of all to see the Qataris, Saudis and the Turkish government stop their support and instigation of violence, stop their money funding to cover the needs of the armed groups which attack civilian and military members."
"There are committees at the UNSC meant to implement the resolutions 1272 and 1373 linked to the activities of al-Qaeda and Taliban… these committees should assume responsibilities in dealing with al-Qaeda activities in Syria.. otherwise this will be a double standard policy and language," al-Jafari said.
In response to questions of journalists, al-Jafari underlined that Syria is interested and participates in the success of the international observers' mission, adding "we think issues are going in a positive manner on the field, the volume of violence has remarkably retreated, but the quality of crimes perpetrated by the armed terrorist groups became worse.. we are witnessing now suicide acts, assassinations and explosive devices blasts."
On the difference between Ban Ki-Moon's statements yesterday from those of Annan's today regarding Syria, al-Jafari said "I met the UN Chief 10 days ago and urged him to engage positively in supporting Annan's mission."
"Turkey sponsors and gives shelter to some army defectors and the armed terrorist groups… those armed groups are infiltrating through the Turkish borders.. they are perpetrating crimes against the Army forces and police, then infiltrating back to Turkey.. so the Turkish government should be responsible for halting the operations of infiltration through the Syrian-Turkish borders," al-Jafari added.
He underlined that Syria has a bulk of facts, and everything will be announced on time, saying "what was announced today is a simple example of the facts Syria possesses."
As for Annan's intention to visit Syria during the next days, al-Jafari said "We always welcome him in Damascus."