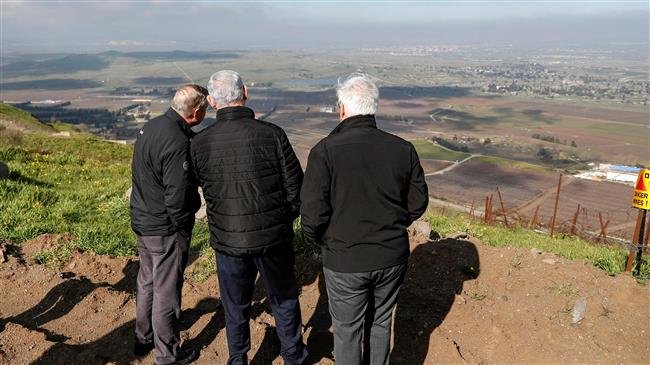 The Syrian government has severely censured the recent remarks by a US Republican senator and a close ally of President Donald Trump that the occupied Golan Heights should remain "forever" under the control of the Israeli regime.
"These statements (by Senator Lindsey Graham) show the arrogant mentality of the US administration, and that it views regional issues with Zionist eyes in a way which serves Israeli interests," an unnamed official at the Syrian Ministry of Foreign Affairs and Expatriates was quoted by official SANA news agency as saying on Tuesday.
The official added Graham's statements not only show his ignorance of historical and geographical facts, but also demonstrate Washington's disregard for international law.
"All United Nations resolutions – particularly Security Council resolution 497, adopted unanimously on December 17, 1981, affirm the legal status of the Syrian Golan as occupied territory, and declare Israel's annexation of it as null and void," the official pointed out.
He concluded that the Syrian people in general, and the people of the occupied Syrian Golan in particular, are determined to continue their struggle until the occupied Golan is fully liberated and restored to the homeland.
On Monday, Graham told Israeli Prime Minister Benjamin Netanyahu he will push for the United States to formally recognize the Golan Heights as part of Israel.
He said the idea of the strategic plateau going to any party other than the Tel Aviv regime was "off the table", vowing to work to have Washington recognize the occupied territory as part of Israel "now and forever."
During the past few years, Israel has frequently attacked military targets in Syria in what is considered as an attempt to prop up terrorist groups that have been suffering heavy defeats against Syrian government forces.
Back in April 2015, Israeli Prime Minister Benjamin Netanyahu officially admitted for the first time that the regime's military had conducted strikes in Syrian territory.
Damascus says Israel and its Western and regional allies are aiding Takfiri terrorist groups operating inside the Arab country, while the Tel Aviv regime's military carries out such sporadic strikes against Syrian government forces. The Israeli regime has even set up field hospitals to treat wounded militants evacuated from Syria.
Moreover, the Syrian army has repeatedly seized huge quantities of Israeli-made weapons and advanced military equipment from the foreign-backed militants inside Syria.
Israel seized the Golan Heights from Syria after the 1967 Six-Day War and later occupied it in a move that has never been recognized by the international community. The regime has built dozens of settlements in the area ever since and has used the region to carry out a number of military operations against the Syrian government.