Syria
Syria crisis death toll stands at 400,000: Puppet UN Envoy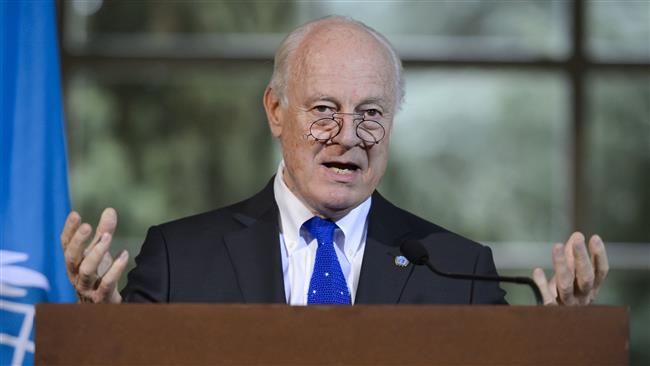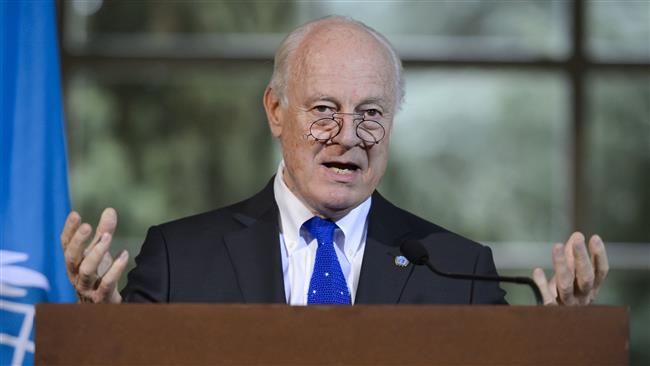 The United Nations special envoy for Syria says some 400,000 people have lost their lives as a result of more than five years of foreign-sponsored conflict gripping the Arab country.
Speaking on the sidelines of Syria peace talks in the Swiss city of Geneva on Friday, Staffan de Mistura said the figure was based on his "own analysis" and thus "not verified."
He initially released the death toll in an interview with Swiss TV on Thursday.
De Mistura's figures come while the UN has stopped officially counting the toll, citing lack of access to accurate data.
"We had 250,000 as a figure two years ago," said de Mistura, adding, "Well two years ago was two years ago."
The UN envoy's figure was close to a February calculation by the Syrian Center for Policy Research, which said the crisis in the Middle Eastern state has claimed the lives of over 470,000 people.
Syria has been gripped by foreign-backed militancy since March 2011. Damascus says Saudi Arabia, Turkey and Qatar are the main supporters of the militants fighting the government forces.
The latest round of the indirect UN-brokered negotiations aimed at finding a political solution to the Syrian crisis began in Geneva on April 13.
Five days later, however, the main opposition group, known as the High Negotiations Committee (HNC), suspended its participation in the peace talks and left the discussions to protest what it called the Damascus government's violation of a recent cessation of hostilities.
The truce, which went into effect on February 27 across Syria, initially reduced violence there, but fighting has picked up again, leaving the ceasefire in tatters.
Elsewhere in his comments, the UN envoy said the Geneva talks will continue until "probably Wednesday, as originally planned."
However, he warned that Syria's warring sides are "extremely polarized" and the truce is in trouble.