Syria
Syria declares 'regime of calm' in two major areas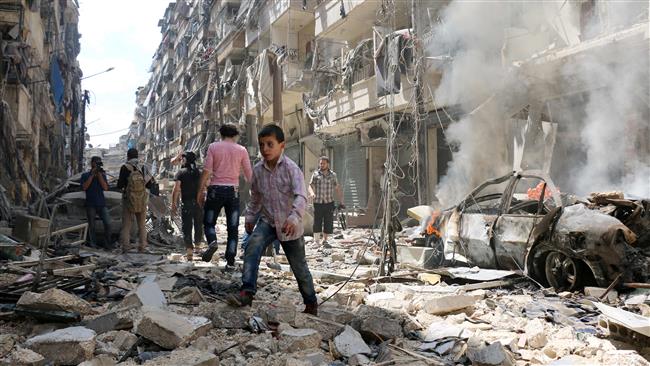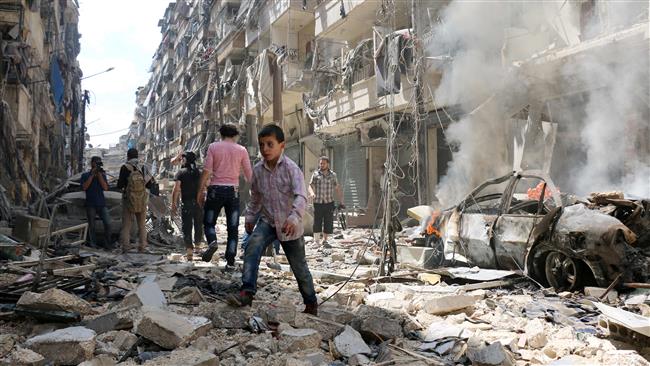 Syria is planning to enforce a "regime of calm" in two major urban areas as militant attacks in the northwestern city of Aleppo kill over a dozen people despite an agreement for the cessation of hostilities.
A statement from the Syrian Army General Command said on Friday that the regime of calm, or a "silent period" as referred to by its Arabic term, will be enforced in parts of Latakia and Damascus regions from 1:00 a.m. (2200 GMT) on April 30.
The partial ceasefire, which lasts for 24 hours in the Eastern Ghouta region east of Damascus and inside the capital, and for 72 hours in areas of the northern Lattakia countryside, does not include the city of Aleppo where militant attacks have escalated over the past few days.
"This is in order to sever the road for some terrorist groups and their supporters, who strive to prolong this state of tension and instability and to find pretexts to target peaceful civilians," said the statement, which was read by Syrian state TV.
It was not clear whether all militant groups would respect the unilateral declaration, although some hailed it as a positive step.
"This is the first step to recover the reconciliation and it is very important," said Qadri Jamil, a Syrian opposition figure and one of the leaders of the Syrian Popular Front for Change and Liberation, claiming that Aleppo will be also included in the deal.
Attacks surge in Aleppo
The so-called Syrian Observatory for Human Rights said on Thursday that at least 49 civilians had been reportedly killed in rocket attacks carried out by foreign-backed militants in the government-held areas of the city of Aleppo over the previous six days.
Once Syria's main commercial hub, Aleppo became divided between the government and militants in 2012.
The official SANA agency said on Friday that militants shelled a mosque in a government-held area of the city, killing at least 15 people and wounding 30. State TV said the attack on the Malla Khan mosque in the Bab al-Faraj neighborhood and its surroundings came when the worshipers were leaving after Friday Prayers.
Jamil blamed a group of militants supported by Saudi Arabia for the alleged collapse of a broad ceasefire which came into effect in Syria in late February for the warring sides to open peace talks under the auspices of the United Nations in Switzerland.
However, the High Negotiation Committee (HNC) withdrew from the talks last week, accusing the government of violating the truce.
"The Riyadh group leaving the talks is one of the stages of this conspiracy against the ceasefire in Syria," Jamil said, adding that militants supported by the HNC continue to derails efforts aimed at reaching a permanent ceasefire in Syria.
A Russian source said the regime of calm was the result of joint efforts by the United States and Russia to prevent the late February truce from complete collapse.
The source, which was introduced as a member of Syria ceasefire task force, said Moscow and Washington would guarantee the implementation of the regime of calm, expressing hope that "both the government and the illegal armed formations will adhere to it, stop shelling and dangerous military activity."