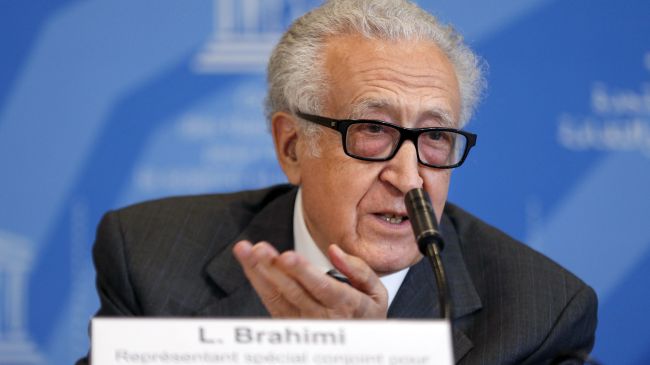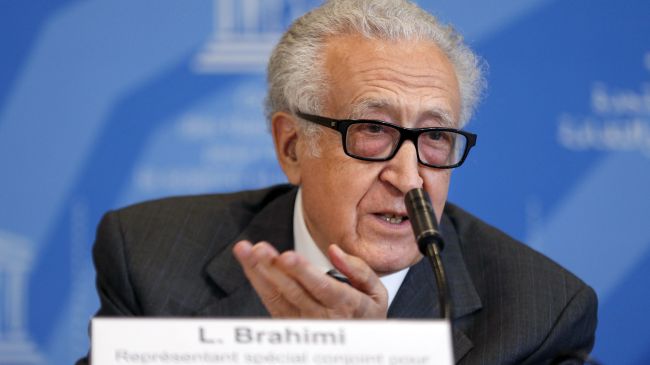 Representatives of the Syrian government and the foreign-backed opposition have met briefly in the Swiss city of Geneva amid heated differences.
The two sides took part on Saturday in talks mediated by UN-Arab League Special Representative for Syria Lakhdar Brahimi at the UN's headquarters in Europe, Brahimi's spokesperson, Corinne Momal-Vanian, said.
The meeting, in which Brahimi was the sole speaker, concluded in less than half an hour. The two delegations then broke up into two separate rooms with Brahimi shuttling between them.
The two delegations were expected to come together on Saturday afternoon to discuss the humanitarian issues.
Leaders of the foreign-backed opposition said they wanted the Saturday afternoon meeting to focus on humanitarian access to the western city of Homs.
Syrian Deputy Foreign Minister Faisal Muqdad, however, said the situation in Homs, Aleppo and other cities "deserves to be discussed, but today we will not discuss these issues, which need time and consultations."
"We will talk about general questions," he added.
The latest round of talks on the Syria crisis kicked off in the Swiss town of Montreux on January 22.
The session ended in bitter exchanges and disagreements between the representatives of the Syrian government and the foreign-backed opposition.
The so-called Syrian National Council (SNC) and its Western supporters insist that President Bashar al-Assad must step down and a transitional government be formed in Syria.
However, Damascus has rejected the demand, arguing that the foreign-backed coalition does not represent the Syrian opposition.
The United Nations says more than four million Syrians will be forced out of their homes in 2014 by the escalating conflict in the country that has displaced millions so far.