Syria
Syria- Fifteen Army Martyrs Laid to Rest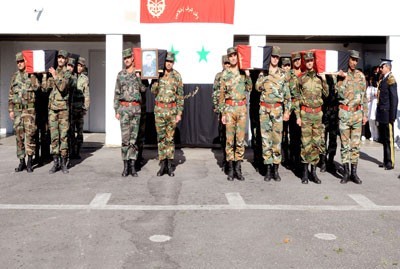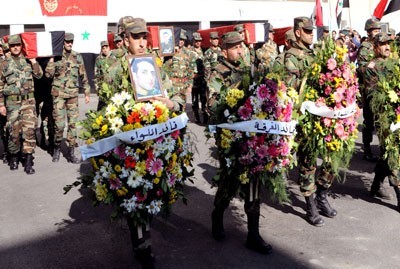 Fifteen Syrian army martyrs on Monday were escorted from Tishreen and Homs Military Hospitals to their final resting place.
The martyrs were targeted by the armed terrorist groups while performing their national duty in the governorates of Damascus Countryside, Homs and Hama.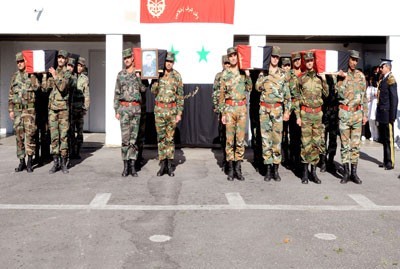 Solemn processions were held for the martyrs as they were carried on shoulders and covered with the national flag while the Military Band was playing the "Martyr" and the "Farewell" music.
The martyrs are:
Sergeant Major Baligh Fayez Khder, from Homs.
Chief Warrant Officer Ghazi Hassan Zreik, from Hama.
Sergeant Major Soumar Mohammad Abu Tabeekh, from Lattakia.
Sergeant Major Yousef Ibrahim al-Suleiman, from Hama.
Sergeant Major Amer Nazeer Nasr, from Hama.
Sergeant Major Issam Hussein Ibrahim, from Tartous.
Sergeant Ammar Ali al-Ali, from Hama.
Sergeant Shadi Suleiman al-Sha'aer, from Hama.
Corporal Nadeem Adel Dariousy, from Lattakia.
Corporal Maher Yousef al-Hussein, from Hama.
Corporal Yamen Hikmant Qattan, from Hama.
Conscript Ahmad Mustafa al-Refaei, from Daraa.
Conscript Adnan Mohammad al-Sheikh, from Aleppo.
Conscript Mahmoud Turki Mahmoud, from Damascus.
The families of the martyrs expressed confidence in the ability of the Syrian people to overcome the current crisis through adhering to their national unity and that the sacrifices of the martyrs will safeguard the homeland in the face of all challenges.
They also expressed pride in their sons' martyrdom, stressing readiness to sacrifice their own lives to defend Syria.