Syria
Syria: Gov't Forces Cut off One More Supply Route of Militants in Homs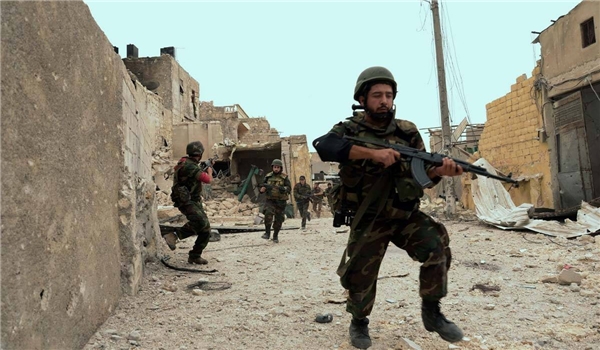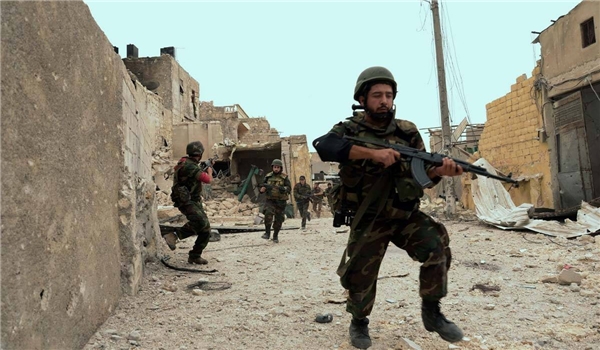 The Syrian Army and the National Defense Forces (NDF) pushed the militant groups back from their positions near a main road in the Northern part of Homs province on Wednesday and seized full control over the militants' line of supply.
The Syrian army troops and the NDF have been engaged in a tough battle with the militant groups near Keisin since the early hours of this morning that has thus far resulted in the recapturing of a road connecting al-Houla and several towns and villages in the Northern part of Homs province.
The militant groups have left behind scores of the dead and wounded members and fled the battlefield to evade more casualties.
The pro-government forces are advancing against the militants in surroundings of Keisin.
Reports said earlier today that the Syrian jets and army soldiers, in a joint operation, pounded heavily several ISIL terrorists' center points and hideouts in the Eastern parts of Homs province, leaving scores of terrorists dead and their weapons destroyed.
The main part of the operation was carried out on ISIL positions in three towns of Mahasa, Tuloul al-Soud, al-Quaryatayn, located in Eastern Homs province, and inflicted huge losses and damage on the terrorists.
The Syrian air force, in a separate phase of the operation in the province, launched several airstrikes on the gatherings of ISIL terrorists in Jubb al-Jarrah region, destroying their hideouts and killing dozens of them.
Also in an intensive operation against al-Qaeda's Nusra Front in Homs province, Syrian army troops, backed by popular forces, heavily hit the group's positions in al-Rastan city and the villages of Keisin and al-Ghajar.
According to informed sources on the ground, the raids left dozens of terrorists dead and their hardware destroyed.