Syria
Syria has rid of 80% of chemical arms but terrorists are supplied with more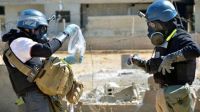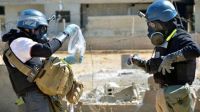 The head of the international team overseeing the destruction of Syria's chemical arms says the country has shipped out or destroyed nearly 80 percent of its declared weapons material.
According to Press TV,Sigrid Kaag, the special coordinator of the joint mission of the United Nations and the Organization for the Prohibition of Chemical Weapons (OPCW), announced the news on Saturday.
Kaag described the process pace as positive, noting that if the procedure sustains current momentum, Syria would be able to meet its April 27 deadline to give up its entire declared chemical stockpile.
On September 14, 2013, Russia and the United States agreed on a deal under which Syria would have its chemical weapons eliminated and the US would in return not carry out planned strikes on the Arab country.