Middle East
Syria
Syria intercepts hostile targets over Damascus: Report
Syrian air defenses have responded to fresh attacks targeting areas around the capital Damascus, local media have reported.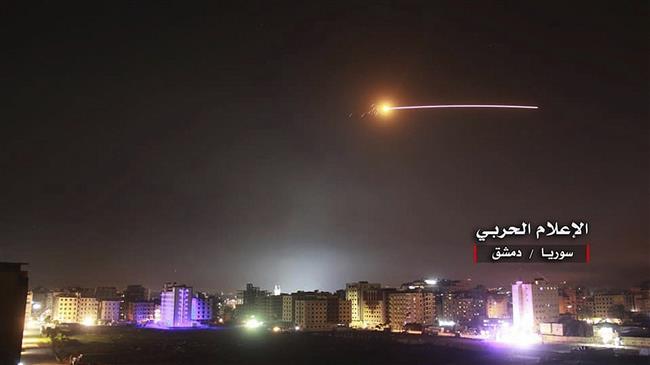 Syria's state-run news agency SANA said late on Thursday that the Arab country's army activated its anti-aircraft systems to intercept hostile targets flying over Damascus.
A SANA reporter said a number of missiles downed by the air defense systems had been fired from the Israeli-occupied Golan Heights.
The Ikhbariya news channel also said that "several objects" flying over Damascus had been brought down.
It was not clear whether the attacks had resulted in any casualties.
There was no immediate official information about the origin of the attacks although the Israeli regime has been behind many similar incidents in recent months.
On February 6, Israeli fighter jets launched air strikes from the Golan Heights on areas on the outskirts of Damascus. The attacks inflicted losses on the Syrian military personnel and equipment.
Israel uses civilian flight as shield to raid Damascus after Syrian troops liberate SaraqibRussia says An Israeli airstrike, carried out as Syria troops were liberating the terrorist-held town of Saraqib in northwestern Idlib province, has endangered a civilian flight carrying 172 passengers.
The Tel Aviv regime mostly keeps quiet about the attacks on Damascus countryside which many view as knee-jerk reaction to Syrian government's increasing success in confronting terrorism in country.
Israel has been a main supporter of terrorist groups that have opposed the government of President Bashar al-Assad since militancy erupted in Syria in March 2011.
Syrian government forces have taken back many areas once controlled by the terrorist groups. The government and allied forces are currently busy fighting last bastions of militants in the northwestern province of Idlib and areas in the neighboring Aleppo province.
The large-scale government offensive in Idlib has caused increasing friction with neighboring Turkey as Ankara insists that Syria and its main ally Russia are violating the terms of a ceasefire agreement reached in Russia in September.