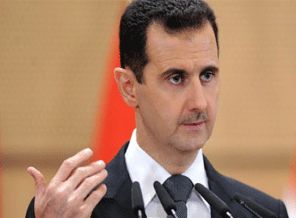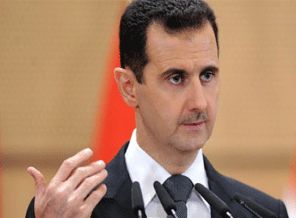 Syrian President Bashar al-Assad says Syria is under pressure because of its support for Palestine: interview on Iran state TV.
Assad tells Iranian TV: we are moving forward with reforms.Some countries want Kofi Annan peace plan to fail in order to blame.
We cannot accept non-Syrian solution to conflict because only Syrians know how to resolve it. Assad says he does not foresee military action against his country. Libya-style operation is not possible.
Also he added that reform efforts are not important for terrorists.The only thing they care is to hamper reform and reconstruction processes started by the government.
President Assad says this military operations will never stop unless the terrorists stops to kill innocent civilians in the streets."We have to save our citizens life" says Assad.He also adds that the terrorist groups are doing their best in order to curtail the reforms and create disturbance.Syrian citizens are not important for them he adds.
President Assad states that Turkish people are not sharing Turkish governments ideas and they are not supporting the USA backed Syrian policy of Turkish government.Turkish and Syrian societies are brothers and will stay in peace forever.
Lastly he adds that Iran is with Syria and we are faithfully bonded and loyal to Iranian nation and government.