Syria
'Syria moving towards overcoming crisis'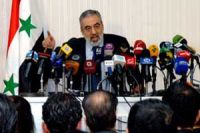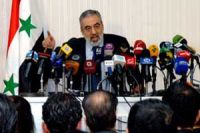 Syrian Information Minister Omran al-Zoubi says Damascus is moving towards overcoming the foreign-fuelled crisis in the country.
According to the official Syrian Arab News Agency (SANA), Zoubi made the remarks during a news conference in the Syrian capital on Sunday.
The minister added that Syria is target of an unprecedented media offensive and most of what is being said about the situation in the country is baseless and false.
He stated that "well-known sides" are training, financing, and arming al-Qaeda-affiliated terrorists, who are killing Syrians.
Zoubi said that the armed Syrians, who surrender themselves to the law enforcement agencies will be treated in "a specific way because they're Syrians," but the al-Qaeda-affiliated terrorists will be punished according to law.
He added that the Syrian Army will continue to confront terrorists across the country.
Elsewhere in his remarks, Zoubi appreciated Russia's principled stance towards Syria, and said that the position has not changed, and any bets on such a change are mere dreams.