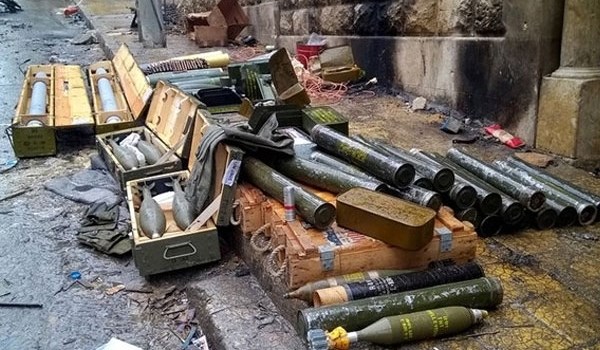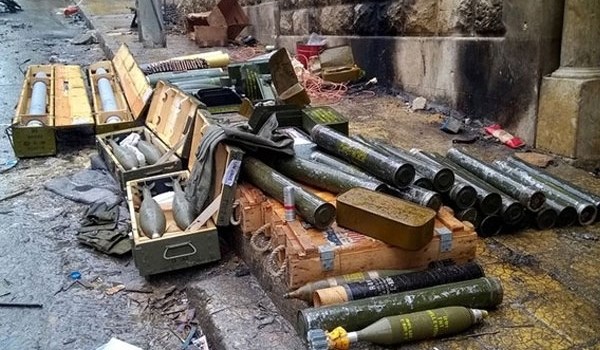 The Russian reconciliation Center for Syria announced in a statement on Monday that its members have discovered depots of arms and ammunition produced in NATO member-states in the territories liberated from terrorist groups in Northern Homs.
 "We are in the Za'afaraniyeh settlement in Homs province at an Al-Nusra front (also known as Fatah al-Sham Front or the Levant Liberation Board) observation post. We can see here a large number of gas masks, weapons produced abroad, for example, TOW-2 anti-tank guided missiles. The facilities are very well-equipped," the center's representative Andrey Nekipelov said.
According to the statement, the officers are also revealing underground tunnels that are equipped with medical complexes as well as detention facilities for civilians.
Syrian sappers continue to de-mine settlements in the liberated areas, the center added.
Field sources reported on Thursday that 30,000 terrorists and their family members left Northern Homs and Southern Hama in the past 10 days after an agreement with the Syrian army.
They added that after the terrorists' full withdrawal from the region, 65 towns and villages were liberated by the army and 1,200sq/km of lands in Central Syria were purged of militants.
The sources said that the liberated region links Central Syria to other provinces, adding that the two dams of al-Rastan and Houleh were also retaken and security prevails over the vital and strategic infrastructures.