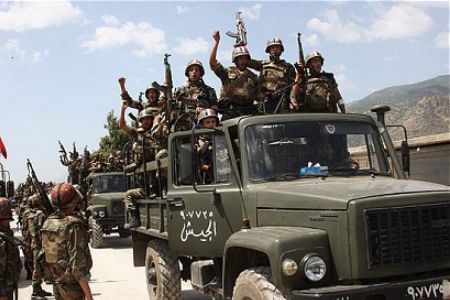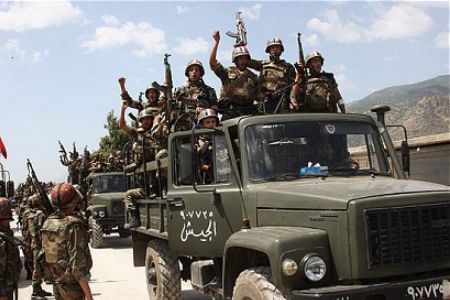 Syria has stopped an operation by armed terrorists attempting to infiltrate the country from neighboring Turkey.

The Syrian Arab News Agency (SANA) said on Tuesday that border guards thwarted an attempted infiltration by "armed terrorist groups from Turkey" in the Ain Bayda region of the northwestern province of Idlib in Syria the previous night.
According to SANA, about 35 gunmen were injured during clashes between border guards and terrorist groups.
The rest of the terrorist elements fled back into Turkey.
No casualties were reported among the Syrian border guards.
The infiltration attempt was made as on Monday, Syrian Foreign Ministry spokesman Jihad Makdissi said Damascus had accepted an Arab League request to send observers to monitor the situation in the country.
On Monday, Syrians held a demonstration in the western province of Homs, condemning attempts by foreign countries to interfere in the country's internal affairs. Demonstrators also censured the Arab League decisions against Damascus.
The Arab League approved unprecedented sanctions against Syria, including an embargo on the investment for projects in the country and an imposition of a ban on commercial flights between Syria and member states, during a session in the Egyptian capital of Cairo on November 27.
Syria has been experiencing unrest since mid-March, with demonstrations being held both in favor of and against President Bashar al-Assad.
Hundreds of people, including members of the security forces, have been killed in the turmoil.
Damascus blames "outlaws, saboteurs and armed terrorist groups" for the unrest, saying it is being orchestrated from abroad.
Syrian opposition groups have interviewed israeli news outlets over the past few months. The interviews clearly show the opposition's vision for the future of Syria, and indicate their interest in developing relations with tel aviv.
Meanwhile, the confession of Syrian rebels to carry out armed activities and killing people as well as security forces proves that recent developments in the country are to be seen as parts of an attempt to start a revolt in order to overthrow the current government and replace it with a US-backed regime.
However, the resolution adopted by the Arab League against Syria has increased the unity of Syrian people. Figures show that during the past weeks, nearly 12 million people have demonstrated in support of President Assad.