Middle East
Syria
Syria repairs gas pipeline in eastern Homs after act of sabotage: Ministry
A source at the Syrian Ministry of Petroleum and Mineral Resources says a key gas pipeline running in the eastern countryside of the central province of Homs has resumed operation, a day after foreign-sponsored Takfiri terrorists blew it up.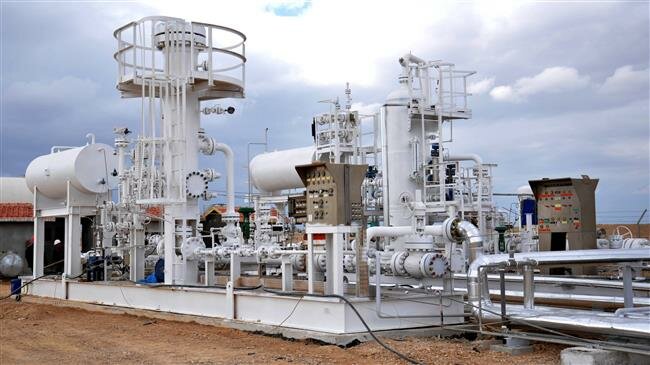 The unnamed source told Syria's official news agency SANA that maintenance teams fixed the pipeline, which links the government-controlled Shaer field to the Ebla plant, and the processing plant has restarted production at full capacity.
The pipeline carries about 2.5 million cubic meters of gas to the Ebla gas plant and onward to power stations, according to SANA.
Takfiri militants blow up gas pipeline in central SyriaForeign-backed Takfiri terrorists have attacked a gas pipeline in Syria's central province of Homs, putting it out of service.
Remnants of Daesh terrorists are present in the Badiya desert of Homs Province. The area is the scene of regular clashes between Syrian government forces and the extremists.
Daesh briefly took control of Shaer fields in 2014 and 2016 before Syrian army soldiers, backed by allied fighters from popular defense groups, recaptured them.
Syria has faced gas shortages as pipelines have come under attack on several occasions.
On June 22, explosive devices damaged underwater pipelines used to deliver crude oil from tankers to Baniyas refinery in the western Syrian province of Tartus, causing an oil spill, SANA reported.
The sabotage was "qualitative and professional," an unnamed high-ranking official at the Syrian Company for Oil Transport said at the time, adding that a foreign state coordinated the blast with the perpetrators.
According to Reuters, today much of Syria's oil fields and infrastructure are held by US-backed and Kurdish-led forces in the east.
Syria has been gripped by foreign-backed militancy since March 2011.
Government forces backed by popular defense groups have now wrested control over much of areas once held by militants.