Syria
Syria urges international community to tackle terrorism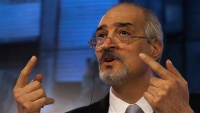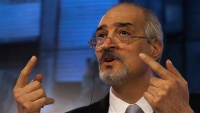 Syria's Ambassador to the UN Bashar al-Ja'afari has urged the international community to tackle terrorism in the crisis-ridden country.
According to reports, during a press conference after talks between representatives of the Syrian government and members of the domestic opposition in Moscow on Friday, Ja'afari asked world countries to support the inter-Syrian consultations in the Russian capital.
The Syrian official also welcomed the results of the negotiations, saying, "I can say that our assessment of what happened during the second consultative meeting is positive."
"The delegations of the government and the opposition proved able to formulate a joint document entitled 'Assessment of the Current Situation in Syria,'" he said, adding, "We managed to find a common denominator and secure our common approach to a number of key issues. This was impossible earlier, during our first meeting in Moscow."
The head of the Syrian government delegation to Moscow talks further accused some regional countries of fueling the militancy in Syria, and hailed efforts made by Iran and Lebanon's Hezbollah resistance movement in fighting terrorism there.
Ja'afari pointed out that terrorist groups such as ISIL and the al-Nusra Front are common enemies of Syrian people.