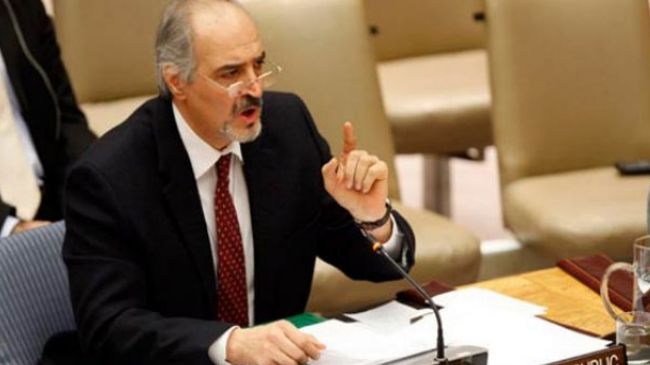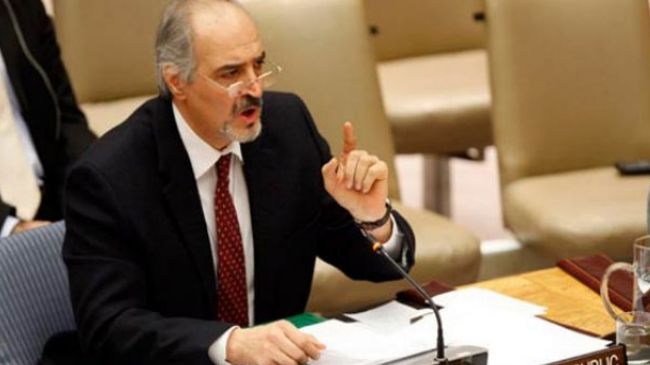 Syria's ambassador to the UN has called on the UN Security Council (UNSC) to perform its duty of censuring and holding accountable those countries that have been backing terrorism in his country for over three years.
In a Wednesday speech to a UNSC session on combating terrorism, Bashar Ja'afari further emphasized the significance of compelling all member states to avoid offering any form of support to terrorism pursuant to UNSC resolution 1373, which went into effect in 2001.
The senior Syrian diplomat also reminded the UN body that his government has received no response for dozens of letters sent to various UN committees about terrorist activities being conducted against the Arab country, the terrorist groups' possession of chemical weapons in Syria, as well as the involvement of certain regional countries in support of the terrorist elements.
Also during a Wednesday interview with Syrian al-Ikhbaria TV, Ja'afari denounced the "aggressive hysteria" that has swept some Western and Arab capitals since Syria's presidential elections were announced.
He further stated that the governments conspiring against Syria have distributed hostile roles among themselves, with France "taking upon itself the role of inciting public opinion against Syria inside the international organization."
The Syrian diplomat then described as "futile" the recent French-drafted resolution at the UNSC seeking to refer Syria's file to the International Criminal Court (ICC). Russia and China vetoed the resolution on May 22.
Over the past three years, Syria has been fighting foreign-backed militants that have engaged in terrorist attacks across the key Arab country.