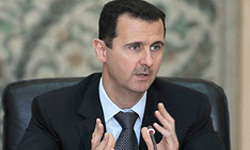 Syria's president says that the Obama administration has failed to make any progress in the Middle East peace process as it has no "influence" in the region.
The United States "has no influence because they don't do anything for peace," President Bashar al-Assad said in an interview with the Italian newspaper La Repubblica published on Monday.
"Obama raised hopes but we cannot wait anymore," Assad said.
The Syrian president also noted that a "new era has been born" in the Middle East as its major powers are forming a new order for the region.
Outlining a new world order across the globe, Assad said that other countries such as China and Brazil refuse to wait for the US to "hand out roles."
His criticism also targeted the European nations as they had failed, he said, to resolve the problems of the region.
Assad, however, praised Russia, saying that Moscow was trying to rebuild its own role in the region.