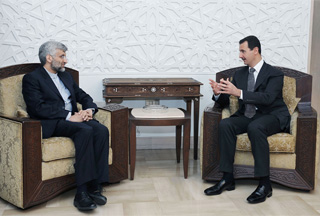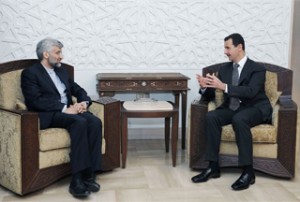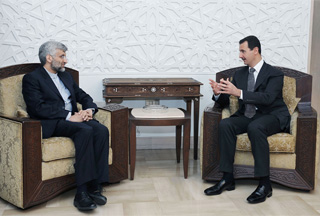 Syrian President Bashar al-Assad has thrown his support behind Iran, saying Tehran has the right to acquire nuclear technology and enrich uranium.
Al-Assad made the remarks after a meeting with Secretary of Iran's Supreme National Security Council Saeed Jalili in Damascus on Thursday.
It is "Iran's right, as it is the right of other state signatories to the nuclear Non-Proliferation Treaty (NPT), to enrich [uranium] for peaceful purposes," DPA quoted the Syrian president as saying.
Jalili, who is also Iran's chief nuclear negotiator, briefed al-Assad on the latest development regarding Tehran's nuclear issue.
"Safeguarding all rights of the Islamic Republic of Iran in the framework of the international regulations is a national duty," Jalili said.
"Providing the required fuel for Tehran nuclear research is merely an economic deal," IRIB quoted Jalili as saying.
The remark came as Tehran's research reactor has run out of fuel after years of operation, prompting Iran to call on the International Atomic Energy Agency to provide the required fuel for the medical reactor.
In a press conference with Syria's Foreign Minister Walid al-Moalem, Jalili said that any illegal move to deny a nation of its right to peaceful nuclear technology is certain to fail.
He added that the success achieved by Tehran is the result of the country's persistence when it comes to defending its right to peaceful nuclear technology.
"Countries that have weapons of mass destruction, produce them and use them have done nothing to disarm their arsenals," Jalili said.
Jalili, who is on a two-day visit to Syria, went on to say that Iran has fulfilled all its commitments as a signatory to the NPT.