Syria
Syria will not allow anyone to interfere in its national affairs: FM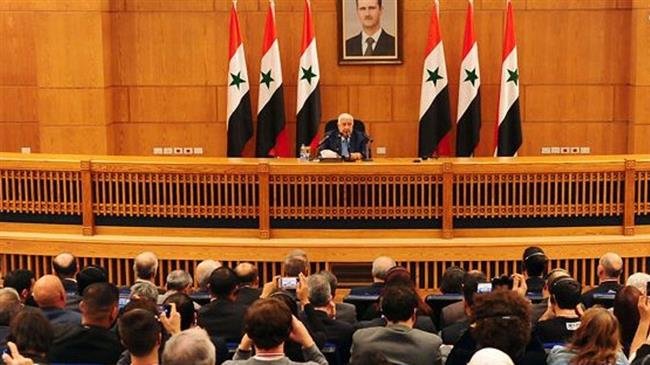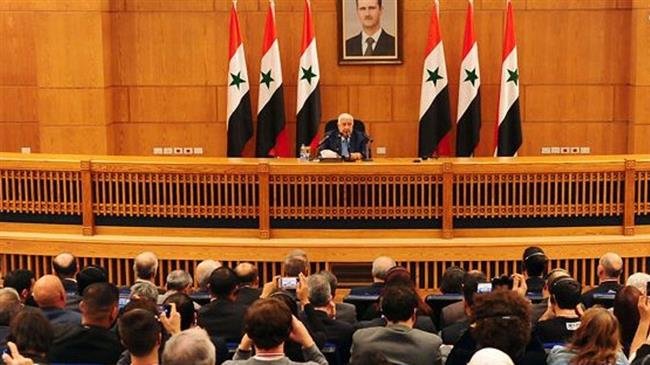 Syria's Foreign Minister Walid al-Muallem says his country's constitution is a purely sovereign matter and that Syrian people will not allow anyone to interfere in their national affairs.
Muallem made the remarks during a meeting with delegations participating in the meetings of the Executive Committee of the World Peace Council and the International Young Democrat Union (IYDU) in the Syrian capital Damascus on Monday.
"For more than seven years, we have been in a real war against terrorism, and today we can see the signs of victory despite all Western and American attempts to prolong the crisis for many years," he said.
Syria's top diplomat added that the Damascus government was working diligently to find a political solution to the Syrian crisis, was taking part in all meetings held in Geneva, Sochi, and Astana, and was also participating in the efforts to establish a constitutional committee.
Referring to a last week meeting with UN Special Envoy for Syria Staffan de Mistura, Muallem said he had rejected the UN's attempts to form a list of civil society representatives in the aforementioned committee on its own as the constitution was a sovereign issue in which there can be no foreign interference.
"The decision of the political solution for the crisis is intra-Syrian, and we will not allow anyone to interfere in our national affairs," Muallem stressed.
Members of the delegation, for their part, expressed support for Syria and its people, army, and leadership, lauded the country's steadfastness and saluted Syrian President Bashar al-Assad.
Earlier this year, Moscow invited representatives of Syria's government and armed opposition groups to the Russian resort town of Sochi and proposed creating a committee to revise the constitution.
The committee is expected to include 150 members: 50 chosen by Damascus, 50 by the opposition and the final 50 by de Mistura. It will also include civil society representatives, religious and tribal leaders, experts and women.
Russian President Vladimir Putin's Special Representative for Syria Alexander Lavrentyev announced last month that the three guarantor states of the Syria peace process – Iran, Russia and Turkey– had reached a consensus with the United Nations on candidates for the country's constitutional committee.
Tehran, Moscow and Ankara have recently stepped up their diplomatic efforts to resolve the Syria crisis.
Also in a joint statement in September, the participants at a Tehran summit on Syria attended by the Iranian, Russian and Turkish presidents said the Syria crisis could only be resolved through a negotiated political process, and that it had no military solution.