Syria
Syrian Armed Forces Start Massive Attacks on Terrorists' Positions in Northern Hama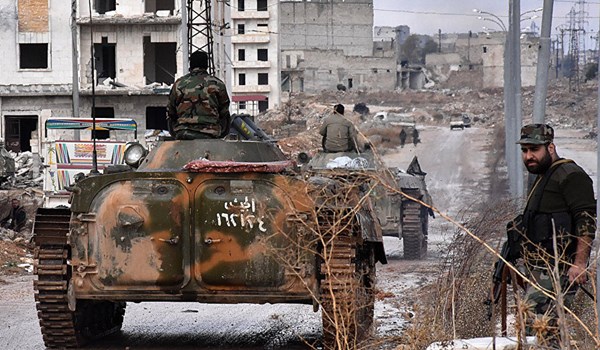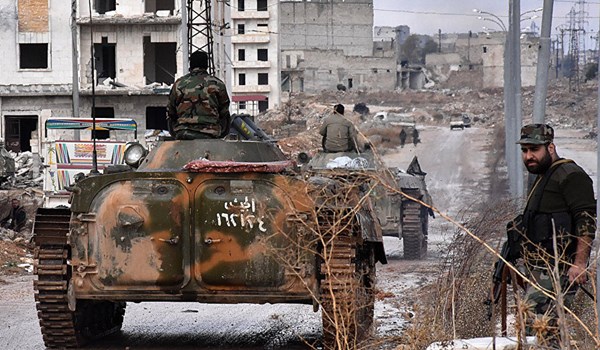 Military sources in Northern Hama reported that the Syrian Army's missile and artillery units and Air Force have launched heavy attacks on terrorists' positions in the towns of Souran and Taybat al-Imam.
The sources said that the artillery and missile units have opened heavy fire at the concentration centers and movements of Al-Nusra Front (also known as Fatah al-Sham Front or the Levant Liberation Board) in Northern Hama in line with the liberation operation of Souran and Taybat al-Imam.
Al-Nusra has suffered heavy casualties in the shelling in Ma'ardeh, Souran-Ma'ardes road, Taybat al-Imam and surroundings of Tal (hill) Skeik, they added.
The sources went on to say that four tanks, a bomb-laden suicide vehicle and four military vehicles were destroyed in the attacks.
A military vehicle and  a large volume of arms and ammunition of Al-Nusra were also seized by the army men.
In the meantime, the Syrian and Russian fighter jets pounded the positions of the terrorists in Taybat al-Imam and areas surrounding Souran, killing a large number of militants and destroying their vehicles.
On Tuesday, the Syrian army units engaged in severe clashes with Al-Nusra terrorists who had attacked Ma'an, al-Kabariyeh and Kawkab towns in Northern Hama and warded off their offensives.
During the clashes 20 militants were killed and wounded and others were forced to flee the scene. Also a tank and several of their military vehicles were destroyed.
A field source also reported that in addition to heavy tolls inflicted on the terrorists, a commander of Jeish al-Izza named Odai al-Khatabi was killed in clashes with the army forces in Northern Hama.
The Syrian army soldiers started a fresh round of attacks on terrorists' defense lines in Northern Hama on Monday and managed to push the militants back from several checkpoints.
The army troops, backed up by artillery fire, engaged in fierce clashes with the terrorists and took full control over the checkpoints of Kaziyeh Sha'er and al-Mabaqer West of the town of Ma'ardes along the road to the town of Taybat al-Imam.
The terrorists lost a number of fighters in the attack.