Syria
Syrian Armed Forces Target Terrorist Gatherings in Aleppo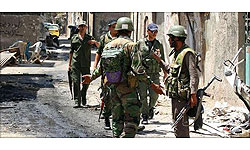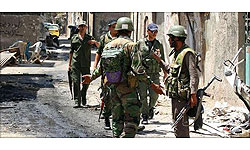 The Syrian Armed Forces targeted terrorist gatherings in various areas in Aleppo countryside, including Mengh, al-Alqamiya, Tal Ajjar, Kafr Antoun, Mayer, Andan, Kafrbsin, al-Maslamiye road and the Damascus-Aleppo highway, eliminating large numbers of terrorists and injuring others.
In Aleppo city, Army units clashed with terrorist groups near the railway crossing, eliminating a number of terrorists and destroying a car equipped with a machinegun, the Syrian Arab News Agency reported.
Some other units of the Syrian Army carried out a special military operation in al-Shqeif in which a number of terrorists were killed and one of their cars was targeted.
Other units of Army killed a number of terrorists in al-Layramoun area, including two leaders of terrorist groups.
The army destroyed a 23mm anti-aircraft cannon and a mortar launcher in Sheikh Saeed, clashed with terrorists near Syriatel tower, and confiscated an RPK machinegun, two RPG launchers, AK-47 rifles, grenades and ammo.
Mohammad Abdelkarim al-Akidi and Abdullah Mohsen al-Hosseini were among the terrorists who were killed in these operations.
Syria has been experiencing unrest since March 2011 with organized attacks by well-armed gangs against Syrian police forces and border guards being reported across the country.
Hundreds of people, including members of the security forces, have been killed, when some protest rallies turned into armed clashes.
The government blames outlaws, saboteurs, and armed terrorist groups for the deaths, stressing that the unrest is being orchestrated from abroad.
In October 2011, calm was eventually restored in the Arab state after President Assad started a reform initiative in the country, but Israel, the US and its Arab allies are seeking hard to bring the country into chaos through any possible means. Tel Aviv, Washington and some Arab capitals have been staging various plots in the hope of increasing unrests in Syria.