Syria
Syrian Army Advances in Aleppo, 26 Gunmen Surrender in Damascus Countryside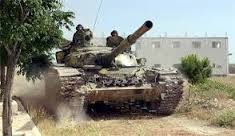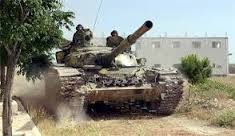 The Syrian army units made significant progress in theSyrian Army battle against armed terrorist groups across the country, killing and injuring many terrorists and destroying their equipment.
Army units continued advancing in al-Layramoun area in Aleppo city after regaining full control of a number of buildings north of Gharbi al-Zahra'a neighrborhood in the area.
An army unit also foiled an armed terrorist group's attempt to sneak from al-Maysar neighborhood into safe areas in the city and clashed with its members, killing and injuring a number of the terrorist groups' members and forcing others to withdraw.
A terrorist group was eliminated east of al-Badawi Mosque in al-Ameriye area, and a truck loaded with ammo was destroyed.
Army units carried out several operations against the terrorists' gatherings in the area surrounding the Industrial City in al-Sheikh Najjar, near al-Saif factory, the agricultural building, around Aleppo central prison, and in the villages of Mare'a, Tal Refa't, al-Kastillo and Sheikh Said.
The operations resulted in killing and injuring huge numbers of terrorists and destroying terrorists' cars loaded with ammunition and weapons.
A military source told SANA that the army units eliminated, in an ambush, all members of an rmed terrorist group of the so-called "Shudaa Korin Brigade" in al-Rouj plain in Idleb countryside.
The source said that non-Syrian terrorists from Pakistan and Chechnya were identified among the killed.
The army unit also foiled an armed terrorist group's attempt to infiltrate into the farms near Qaminas town in the province, killing and injuring all its members.
An army unit eliminated a number of terrorists, some of them foreigners, and injured others in Khan Sheikhoun area.
Army units killed and injured a number of terrorists near al-Abassiyeh bakery, the technical institute, al-Hussein Mosque in the Camp neighborhood, in Daraa al-Balad and destroyed a weapons and ammunition warehouse in al-Kark neighborhood.
Army units destroyed terrorists' gatherings and vehicles' equipped with heavy machineguns in the area surrounding al-Derkhawi Mosque to the south of al-Mteleh, in al-Zubairah village and Rosum al-Dahra in Allajat area . The army units also killed a number of terrorists among them non-Syrians.
The army also foiled an armed terrorist group's infiltration's attempt from Jua'iliyeh town into Tal Hamad in Daraa countryside, killing and injuring all its members.
Other units destroyed a gathering of terrorists in the town of Jassem and a number of vehicles equipped with heavy machineguns which were headed from al-Aliyah town towards Jassem, in addition to destroying a vehicle equipped with a heavy machinegun west of Tal Mutawwaq.
A source at Damascus Countryside Governorate told SANA's reporter that 26 gubneb frin tge towns of Zakiya, al-Tibeh, al-Muqailibiye, and Ein al-Baida in al-Kisweh area, Damascus Countryside, turned themselves in and handed over their weapons to the authorities.