Syria
Syrian Army Advances to Gate of Strategic Region in Hama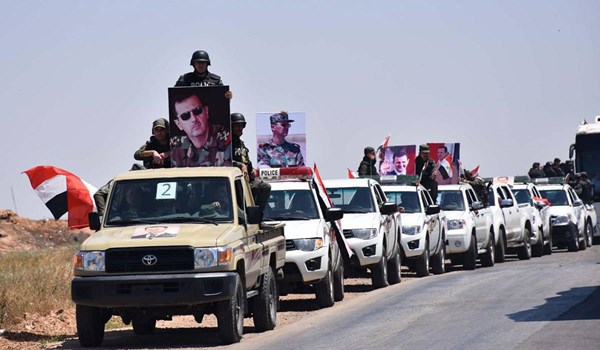 The Syrian army continued military operations in Northwestern Hama, regaining control of new areas and advancing to the gates of the strategic Jabal al-Zawiyeh region.
The Syrian army units continued battle against the terrorists in Northwestern Hama on Thursday after retaking control of the town of al-Hawiz and capturing the villages of Hawiz Foqani, Hawiz Tahtani and Hawiz Horiya.
Meantime, a field source said that the Syrian army has advanced to the entrance of the strategic region of Jabal al-Zawiyeh in Western Hama.
He added that the town of al-Hawiz is a point which links Qalat al-Maziq to Sahl al-Qab, noting that now security will prevail in a large number of adjacent towns and villages, including al-Rasif which had been targeted by the toxic gasses used by the terrorists against the population.
The source said that the Syrian army is attempting to advance in Northeastern Lattakia towards al-Sarmaniyeh and Jisr al-Shaqour to fully surround Jabal al-Zawiyeh.
In a relevant development earlier today, the Syrian army regained control of the town of al-Hawiz in Northern Hama despite Ankara's military support for the militants.
The Syrian army forces, supported by heavy artillery fire, engaged in fierce clashes with Tahrir al-Sham al-Hay'at (the Levant Liberation Board or the Al-Nusra Front) terrorists in the Northern parts of al-Sharia airport in Western Hama on Thursday, taking back control of the town of al-Hawiz, one of the most important strongholds of militants in the region.
Meantime, the Syrian army's artillery and air force units pounded the terrorists' moves and positions in al-Latamineh, Kafr Zita, al-Hawijeh, Jisr Beit al-Ra'as, Jisr al-Shaqour, al-Amiqeh, Ba'arbou, Shahshabou, Haish and Khan Sheikhoun in Northern Hama and Southern Idlib, killing tens of terrorists.
Also, the Arabic-language al-Watan newspaper quoted a source close to the so-called Free Syrian Army (FSA) as saying that Ankara has in the past few days sent a large number of weapons and military equipment, including the US-made anti-tank TOW missiles, to the National Liberation Front and Faylaq al-Sham militants in Idlib through its military officers patrolling in the region.