Syria
Syrian Army Advances toward Douma, Kills Scores of Terrorists across Country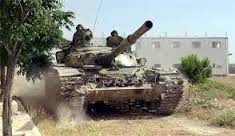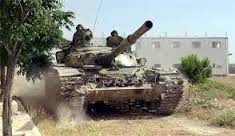 The Syrian army units on Monday advanced towards Douma city in Damascus Countryside in addition to targeting terrorists' gatherings in many areas across the country.
A military source said that army units, in cooperation with the national defense forces, advanced towards Douma city in Damascus Countryside and control Tal al-Sawwan and a number of factories and farms surrounding. They continue hunting terrorists, killing large numbers of them.
The army units targeted a convoy of terrorists' vehicles on barrens of Arsal in al-Qalamoun area in Damascus Countryside, destroying a number of vehicles along with the terrorists on board.
The army units killed many terrorists, injured others and destroyed a den of terrorists' leaders in a series of operations in the countryside of Homs central province.
Many terrorists were killed or injured in explosion of a car loaded with mines and ammunition to the east of Syriatil area in the direction of Jabal al-Shaer in Palmyra countryside.
In Daraa al-Balad, the army units killed a number of terrorists to the west of al-Yarmouk suburb.
The army units target terrorists' gatherings in the direction of Murek-al-Latamneh-Kafer Zaita in Hama countryside, killing and injuring a number of them and destroying their vehicles.
The army units destroyed a number of terrorists' vehicles and targeted a terrorist hideout in Khan al-Assal in Aleppo countryside, eliminating a number of terrorists and injuring others.