Syria
Syrian Army captures 7 towns during massive advance in southwest Syria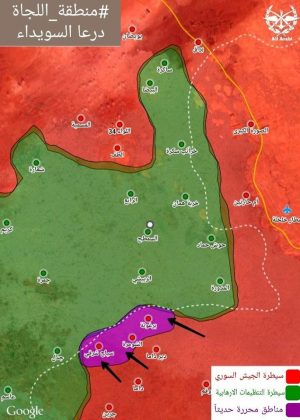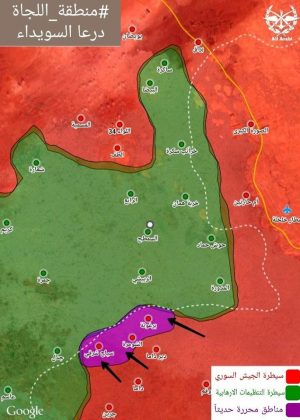 The Syrian Arab Army continued their southwest Syria offensive on Saturday, scoring a new advance inside northeastern countryside of the Dara'a Governorate.
Led by their elite Tiger Forces division, the Syrian Arab Army launched another big assault inside the Al-Lajat region on Saturday in a bid to encircle the jihadist stronghold of Busra Al-Harir.
According to a military source in the government stronghold of Izra'a, the Syrian Arab Army managed to capture four new towns in the Al-Lajat region after a fierce battle with Hay'at Tahrir Al-Sham and the Free Syrian Army (FSA).
The military source told Al-Masdar News that the Syrian Arab Army seized the towns of Al-Madwarah, Al-Alali, Barghasheh, and Al-Shiyahat after overrunning the jihadist defenses on Saturday afternoon.
Following the capture of these towns, the Syrian Arab Army continued their push, seizing Siyah Al-Sharqi, Al-Barghoutha and Al-Shomrah.
The source added that reports of the jihadists asking for reconciliation with the government were untrue and that only a couple Free Syrian Army groups in the area expressed interest in talking with the Syrian Arab Army.
Many of the jihadist groups in the Dara'a Governorate have rejected any peace talks with the Syrian government, despite the fact they are outnumbered at nearly every front in the region.
For the Syrian Arab Army, their primary objective at this point is to completely encircle Busra Al-Harir, which they believe will force the jihadist rebels to negotiate with the government.
Once Busra Al-Harir is captured, the Syrian Arab Army will likely push south towards the Nassib Crossing and historical city of Busra Al-Sham.
Source: AMN