Middle East
Syria
Syrian Army Clean al-Izaa Neighborhood, Storm Den for Armed Terrorist Groups in Aleppo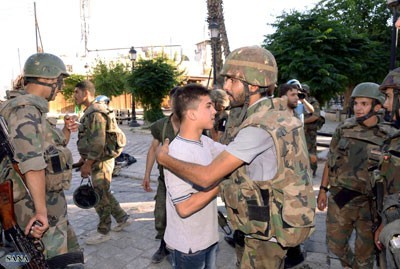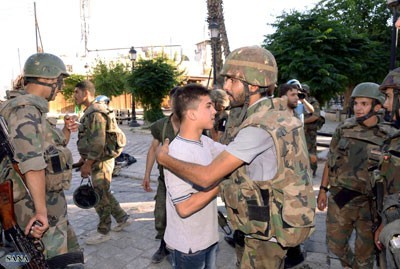 The army forces in Aleppo on Monday cleared al-Izaa neighborhood from terrorists.
Meanwhile, the security forces stormed a den for the armed terrorist groups in al-Inzarat Neighborhood in Aleppo and seized a huge amount of ammunition and weapons.
SANA's reporter in Aleppo said that the seized weapons include PKC machineguns, Russian rifles, pump-action shotguns, ammunition and a large quantity of bombs.
Authorities Continue Purist of terrorists in Ariha, Idleb
The competent authorities in Ariha, Idleb, continued their hunt operations against the remnants of the terrorists, inflicting heavy losses among them.
An official source in Idleb told SANA reporter that the clash with the terrorists led to the killing of a number of them while others were arrested.
Army Units restore Security and Stability to al-Hrak, Daraa
In al-Hrak, Daraa countryside, the authorities clashed with a number of terrorists, killing a number of them including Sabri Nizar al-Qadah, Imad Hamdi al-Shawamra and Eiyad Yousef al-Khayrat.
Meanwhile, the Army units restored security and stability to al-Hrak in Daraa countryside after purifying it from the remnants of the armed terrorist groups who perpetrated crimes against the civilans, sabotaged the private and public properties.
A source in Daraa told SANA reporter that the pursuit operations which lasted for several days in the city of al-Hrak led to the killing of scores of terrorists, arresting others and confiscating their weapons which included RPGs, snipers, machineguns, hand-made bombs and explosives.
Authorities Kill Terrorists who Attacked Tankers Loaded with Fuel Bound for al-Hasaka
The authorities clashed on Monday with a group of armed terrorists who attacked tankers loaded with fuel coming from Homs and headed to al-Hasaka.
An official source in the province told SANA's reporter that the authorities killed several terrorists and that weapons and ammunition, including machineguns and pump-action shotguns, were seized.
Authorities Raid Terrorist Hideout in Hama
On Sunday night, the authorities raided a terrorist hideout inside a house in al-Murabet neighborhood in Hama city, arresting a number of terrorists and confiscating weapons.
Confiscated weapons included bazooka rounds, Malotka missiles, NATO snipers, Australian sniper rifles, PKC machineguns, Russian light machineguns, mortar launchers and rounds, RPG rounds, improvised explosive devices (IEDs) and materials used for manufacturing them.