Syria
Syrian Army Destroys Gunmen Tunnel in Aleppo, Foils Infiltration from Jordan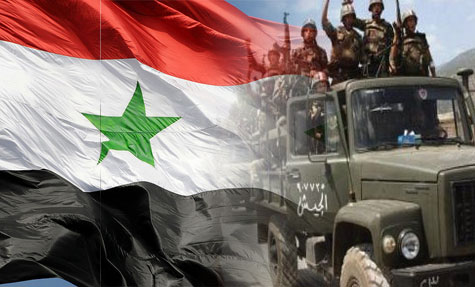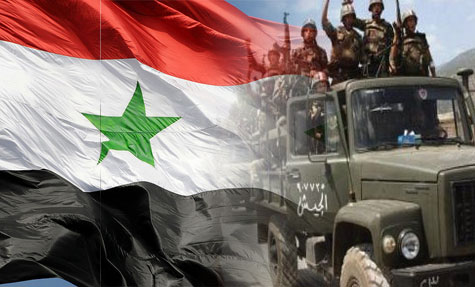 Units of Syrian army units on Thursday targeted foreign-backed terrorists in many areas across the country, killing numbers of them and wounding others, in addition to thwarting infiltration attempts, state-run SANA news agency reported.
In Quneitra, the army continued operations cracking down hard on terrorists in the southern province of Quneitra, with an army unit destroying several vehicles for them at the roundabout of Nabe' al-Sakhr village, southwest of Tal al-Hara.
A military source told SANA that the operation resulted in the killing of the terrorists on board the vehicles.
Many other terrorists were killed and their weapons and ammunition were destroyed in the area north of al-Hamadaniyeh village in Khan Arnaba.
Another army unit killed all members of a terrorist group and destroyed a mortar base in al-Hamidiyeh village, west of Quneitra province.
In Hama, units of the army and armed forces killed 25 takfiris in Dkeileh and al-Bal'as areas in the countryside of the central province of Hama.
Fourteen of those terrorists were killed during army operations that targeted their dens and gatherings in Dkeileh village in the countryside of al-Salamiyeh city, a military source said.
The source also told SANA that 11 other terrorists were killed in Mount al-Bal'as on the road linking Eqeirbat town and Palmyra city, adding that the army operations in the area also resulted in destroying a vehicle with terrorists on board and another vehicle that was equipped with a heavy machine gun.
A number of terrorists were also killed, while others were injured in the villages of Hamadi Omar and al-Khashabiyeh in the eastern part of Hama desert, the source added.
The army units also intensified fire power against des and gatherings of terrorists in al-Qastal al-Janoubi village in Eqeirbat area, leaving many of them dead and their weapons and ammunition destroyed.
In Aleppo, SANA reporter in Aleppo said an army unit destroyed a 400 long tunnel dug by terrorists through which they were trying to reach the Scientific Research Center from the direction of Bab Jdeed area, west of Aleppo city.
In Homs, an army unit killed 24 members of ISIL terrorist organization in Jazel area and destroys a number of their vehicles with all terrorists aboard in the surrounding area of al-Shaer wells in the eastern countryside of Homs, a military source told SANA.
Army units killed a number of takfiri terrorist organizations members during an operation conducted in two villages of Om al-Reesh and Onoq al-Hawa and the road connecting Western Habra to Rajem al-Qaser at the eastern countryside of Homs province.
Another unit of the army destroyed two terrorist dens and armored vehicles in the village of Zaafarane to the east of Talbiseh to the north of Homs.
Elsewhere in the province, an army unit conducted operations which resulted in killing a number of terrorists and their weapons to the west of Al-Rastan lake on the Orontos.
To the west of the province, an army unit, together with popular defense forces, clashed with terrorists inside the 7th and 8th islands and close to Andalous hospital in al-Waer neighborhood which resulted in killing a number of terrorists in addition to destroying a vehicle with heavy machine-gun aboard it.
In Daraa, a unit of the army and armed forces thwarts terrorists' infiltration attempt from Jordan towards Syria between positions 62 and 63 southwest of al-Mata'iya in the countryside of the southern province of Daraa, killing a number of terrorist and other escaped away, military source told SANA.
Army operations focus within Daraa on the buildings of Iylameen (media men residence), Post office, south west of Syriatel communication tower and the two neighborhoods of al-Seeba and Swedan which resulted in killing a number of terrorists and injuring others.
To the northwest of Horan Jeedon, the source added, army units continued their intensive operations in targeting theorists fortifications and their supply lines with the Israeli enemy, killing a many of them to the south of Aqraba and Tal affiya among the triangle of Kafer Nasej, Dier Addas and Kafar Shams.
On the other hand, terrorist organizations admitted on social web page killing many of their members including terrorists Ibrahim Hariri, Abdo Mohamad al-Qarqahe, Khalil Ibrahim al-Mubasbes in the province's northern countryside.
In Damascus countryside, an army unit and armed forces destroyed a number of vehicles with all terrorists on-board in al-Qalamoun mountains in Damascus countryside.
Meanwhile, an al-Qaeda-affiliate al-Sham Front takfiri group claimed Thursday it captured 30 soldiers, including 11 from the popular committees, in Aleppo's Ratyan village.
Syria was hit by a violent unrest since mid-March 2011, where the western media reports accuse countries, mainly the USA, Turkey and Saudi Arabia of orchestrating the civil conflict in the country and providing terrorist groups with money, weapons and trained mercenaries.
On May 2011, Syrian army launched a wide-scale operation against armed groups and gunmen operating in the country, who started to escape the army blows and infiltrate illegally to Lebanon.