Syria
Syrian Army Destroys Strongholds of Foreign Terrorists in Hama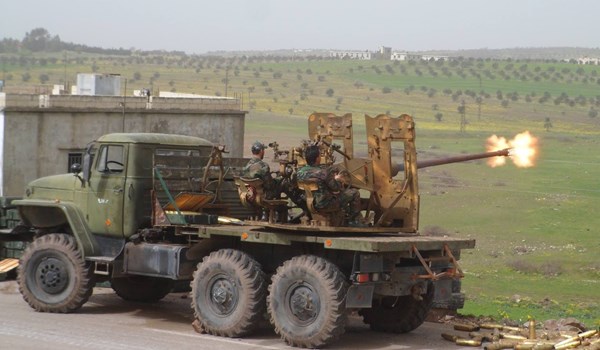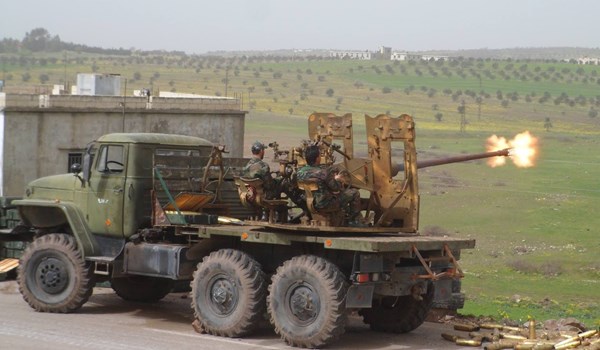 The Syrian army smashed several strongholds of the terrorists in Northern Hama in response to the provocative acts by Tahrir al-Sham al-Hay'at (the Levant Liberation Board or the Al-Nusra Front) and its allies in the demilitarized zone in Northern Syria.
The Syrian army units stationed near the town of al-Hakoureh in Northern Hama targeted Turkistani terrorists, most of them foreign members, with missile and artillery fire on Thursday in response to their attacks against the military points and moves in the region, destroying several of their bases and killing and wounding a large number of militants.
Other units of the Syrian army also attacked the moves of a group of terrorists who intended to infiltrate into the army positions from the town of Tal Hawash in Northern Hama, killing a number of them and forcing others to flee.
Meantime, the army troops in Sahl al-Qab region in Western Hama launched an offensive against Turkistani terrorists near the towns of al-Hawash, destroying a number of their positions and military vehicles and killing the militants inside.
Also, in Western Aleppo, the militants stationed in al-Rashedeen region targeted al-Shahba al-Jadid district with missiles, wounding a number of civilians.
In a relevant development on Wednesday, the Syrian Army heavily pounded the military positions of Tahrir al-Sham and their allied terrorists in Northern Ham and Southern Hama.
The Damascus Army's artillery and missile units pounded the terrorists' positions in Kafar Nabudeh town, Tal Havash, areas surrounding Qala al-Maziq and Kharbeh al-Naqous in Northwestern Hama, inflicting heavy losses and casualties on them.
The Syrian Army attacks came in response to Tahrir al-Sham terrorists' attacks on their positions.
In Southeastern Idlib, the Syrian Army's artillery and missile units hit the terrorists' positions in al-Katibeh al-Mahjoureh, al-Khovein, Khan Sheikhoun, Jarjnaz, Tal Khazneh, destroying several positions and gatherings of terrorists as well as killing a large number of the terrorists.
Meantime, the Syrian Army freed 10 civilians who had been abducted by the terrorists in Dir Qaq town in al-Bab region of Eastern Idlib.