Syria
Syrian Army Fends Off Terrorists' Massive Offensives in Aleppo, Hama, Idlib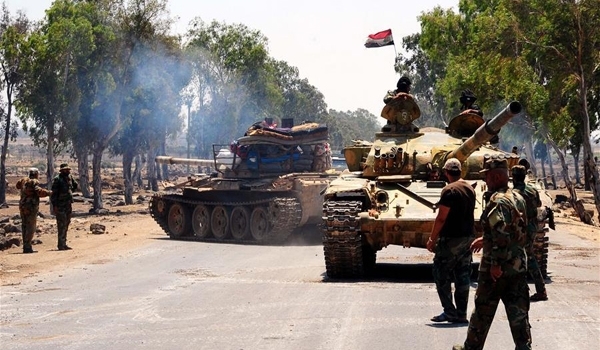 The Syrian army warded off heavy attacks by terrorists from the demilitarized zone on military-controlled areas in Southern Aleppo, Northern Hama and Southern Idlib.
The Arabic-language service of Sputnik reported on Saturday that the Syrian army units engaged in fierce clashes with Tahrir al-Sham al-Hay'at (the Levant Liberation Board or the Al-Nusra Front) and Horras al-Din terrorists who intended to infiltrate into the military areas in Khan Touman in Southern Aleppo.
It added that the army's artillery units also launched repeated attacks on terrorists and their supply routes in Tal Mamo, Zamar, Khaseh, al-Muhandesin and Awaram al-Kobra in Southern and Western Aleppo, repelling their offensive.
Meantime, the Syrian army troops launched heavy artillery and missile attacks on Tahrir al-Sham and Turkistani terrorists' positions and moves in the towns of Shahrnaz, Sahab, al-Ankawi, al-Hawiz, al-Shariat, Qal'at al-Maziq, al-Hawijeh and Tal Hawash in Northern and Northwestern Hama towards the Syrian army positions, inflicting heavy losses on militants and destroying a number of their strongholds and vehicles.
The army troops in Southern Idlib targeted the movements and hideouts of Jeish al-Izza terrorists near the towns of al-Latamineh and Kafr Zita with artillery and missile fire, smashing their gathering centers and positions used to attack the Syrian army.
In a relevant development on Friday, the Syrian army launched massive attacks on military convoys of Tahrir al-Sham in Southern Idlib in response to the militants' continued attacks from the demilitarized zone in Northern Syria.
The Syrian Army units pounded Tahrir al-Sham terrorists' movements from several directions in al-Tamaeneh, Um Jalal, Um al-Khalakhil, Jorjnaz, Khan Sheikhoun, Tahtayeh and Abu Hobeh in Southern and Southeastern Idlib towards the government forces' military points.
Meantime, a military source said that the terrorists sustained heavy casualties and losses as their military convoys were destroyed.
The terrorist groups in Western Aleppo also fired mortar shells at al-Khalediyeh and New Aleppo regions as well as Sheikhan Square in the city of Aleppo.