Syria
Syrian Army Inches Closer to Terrorists' Last Stronghold South-East of Raqqa Province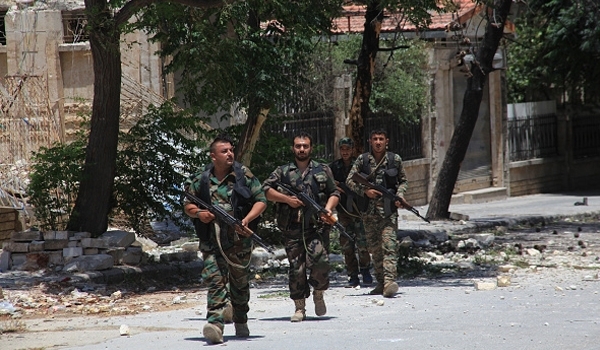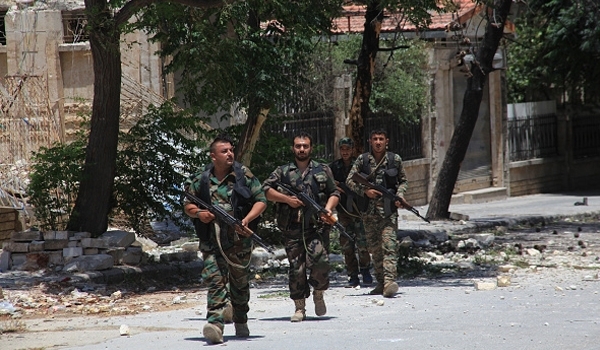 The Syrian Army troops stormed ISIL's defense lines in the Southeastern part of Raqqa province and managed to deploy close to the town of Ma'adan, the last stronghold of ISIL before Deir Ezzur's border, a field source said Monday.
The army soldiers continued to hit ISIL's positions and imposed full control over the villages of Sharideh Sharqi and Tishrin 6th (October 6th), adding that the army units also fortified their positions between the towns of al-Dalhe and al-Namiseh along the Euphrates River towards South.
The source further added that the army men need to take back only the two villages of Jaber and al-Khamiseh to reach Ma'adan.
In the meantime, the army men engaged in clashes with ISIL in Araz al-Ka'aba region and the town of Mosheirefeh in Badiyeh (desert) in Raqqa and only 50km far from Deir Ezzur.
Also, the Syrian Air Force carried out repeated attacks on ISIL's positions in Jabal (mount) al-Buliyeh, Ma'adan, al-Khamiseh, al-Jaber and al-Namisehin, destroying several command centers of the ISIL.
Relevant reports said on Sunday that the army soldiers drove ISIL out of the towns and villages of al-Hardan, Salem al-Hamd, al-Atshaneh, Maqlah Kabireh, Maqlah Saqirah and al-Da'amah.
In the meantime, the Syrian Air Force targeted ISIL's movements and positions in the towns and villages of al-Khamiseh, Salem al-Hamd, al-Namiseh, al-Jaber, and Ma'adan.
Army sources said a large number of ISIL terrorists were killed, over 30 military vehicles and six bomb-laden cars were destroyed and two tanks were seized by the army in the operation.