Syria
Syrian army inflict heavy blows on militants across nation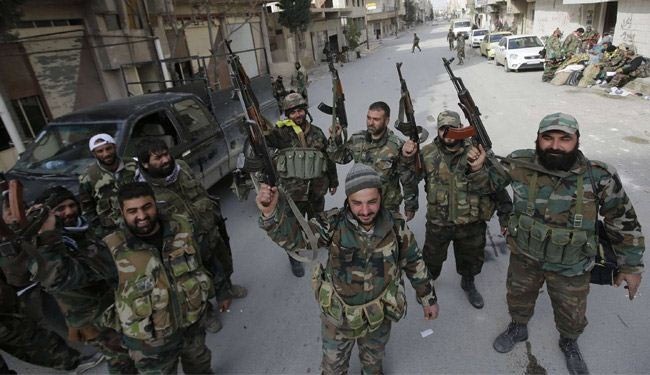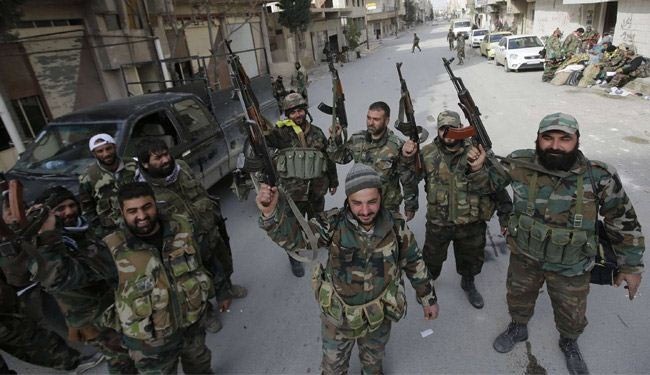 Syrian military forces have crushed foreign-backed insurgent gang near key cities of Homs, Aleppo, Idleb and Daraa, thwarting terrorist intrusion attempts, destroying their staging areas and weaponry as well as inflicting heavy losses on their fighting force and equipment.
Army units killed numerous insurgents and injured scores of others in Ban Hood neighborhood of the city of Homs and the villages of Burj Qaei, Talas, al-Naseriyeh, al-Houla, al-Breij, al-Ghanto, Talbisa, Beit Hajjo, Beit Rab'eh, Eyoun Hussein and al-Saan in the outskirts of the city, Syrian news agency SANA reported.
Government troops further repelled an attempt by members of an insurgent gang to infiltrate into the village of al-Khaldieyh from al-Dar al-Kabira in the same general area.
Another intrusion bid by the armed militants into al-Dweir from al-Ghasbiyeh was also foiled by army soldiers.
In Idleb, meanwhile, army units razed insurgents' staging centers in the villages of Kafr Najd, Bramour and M'ardabseh in the countryside of the province, leaving many of the armed militants dead and wounded.
Syrian troops also attacked insurgent position in Aleppo town of al-Ansari, Jabreih, Layramoun, Sheikh Said, Queris, tal Rifa'at, Kfar Hamra and in the vicinity of central prison and industrial city, al-Mansoura, ramouseh and Bayanoun, killing and wounding scores of armed militants.
This is while a military source was cited by SANA as saying that other army units inflicted heavy losses on terrorist gangs and destroyed their vehicles, equipped with heavy machineguns in Hreitan, Kafr Halab, Sheikh Said and al-Sakhour.
Government soldiers also confronted an armed insurgent group in Daraa al-Balad, foiling their attempt to infiltrate into al-Manshiyeh neighborhood from Bilal al-Habashi Mosque, killing or wounding numerous militants.
In Daraa countryside, army units also eliminated a group of terrorists and destroyed their vehicles equipped with heavy machineguns on Rosoum al-Modawarah al-Rbaisyeh road.