Syria
Syrian Army Inflict Heavy Losses upon Terrorists' Dens, Gatherings in Aleppo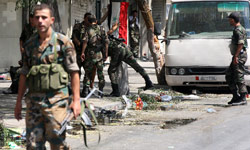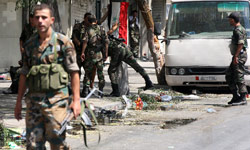 The Syrian Armed Forces continued military operations in Aleppo and its outskirts killing and wounding a number of anti-government fighters.
Several units of the army killed and wounded a number of terrorists near the glass and al-Saif factories in the surrounding of the Central Prison of Aleppo, a provincial military source told the Syrian Arab News Agency.
Another army unit clashed with terrorists affiliated to al-Nusra Front in al-Ziyareh village near Minnegh town, inflicting heavy losses upon them.
Another army unit destroyed a number of vehicles loaded with weapons and ammunition on Daret Izzeh road in Aleppo's outskirts.
So many members of terrorist groups were killed near Toyota showroom, al-Tahan restaurant, ice cream factory, and al-Qadah gas station on Aleppo-Idleb road.
Army units also clashed with terrorist groups at al-Haidariyeh roundabout in the city of Aleppo, killing and wounding most of their members and destroying their vehicles.