Syria
Syrian Army Intensifies Operations in Eastern Ghouta to Deflate Pressure in Southern Front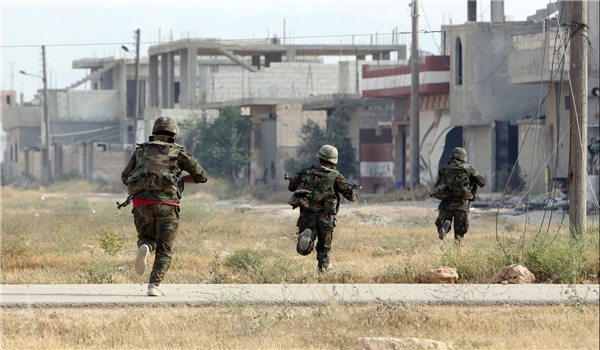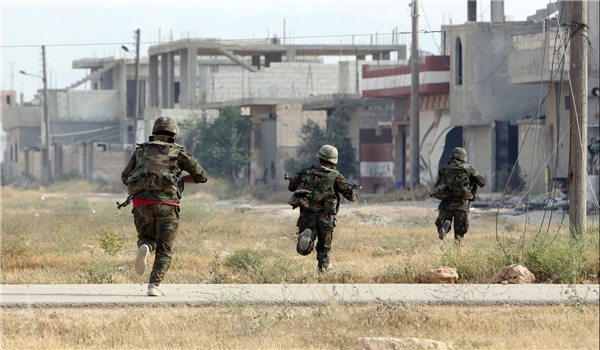 The Syrian army forces widened their operations in the road linking Zobedin to Deir al-Asafir in Eastern Ghouta in Damascus province to fortify their positions against the terrorists' front in the South.
The operations were staged as the terrorist groups, including the so-called al-Rahman army terrorist group, are withdrawing from the two towns of Zobedin and Deir al-Asafir.
The army operations are reported successful as they have managed to reduce the terrorist groups' pressures in the Southern front. The militant groups had earlier launched an attack against the Syrian army bases in al-Shamiya town in al-Maraj region.
Battlefield reports said tens of terrorists have been killed or injured in the army operations, adding that seven terrorists have also been captured.
In a relevant development, the military sources said on Wednesday that the Syrian Army alongside the Lebanon's Hezbollah Resistance Movement raided the positions of the al-Nusra terrorists in the surrounding areas of Jreijeer Heights and pushed them back from the battlefront.
The sources said that the Syrian army men and Hezbollah fighters, after fierce clashes on Tuesday and Wednesday, gained the upper hand against the rebels in Arsal farm, particularly after their eye-catching advances in the Jreijeer Heights.
The Syrian army and Hezbollah retook control over the Flita Heights in al-Qalamoun last week, and killed tens of insurgents there.