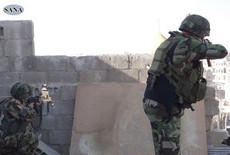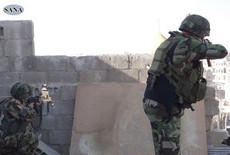 The Syrian Army units embarked on carrying out an extensive sweeping operation in the direction of Adra city in Damascus Countryside,Syria Army a military source announced Friday.
"After precise reconnaissance and concentrated fire strikes, units of the armed forces embarked on an extensive crushing operation in the direction of Adar," the source told SANA.
The source added that the army units launched the operation after they have tightened the ring around the area and started storming the terrorists' dens and the places where they are positioned.
"The General Command of the Army and the Armed Forces affirms to our proud people that it is determined to cut off the vicious hand of terrorism which extended to the unarmed safe civilians in their homes in the residential city of Adra" the source said.
It went on saying that those "takfiri murderers and their operators will pay a high price for the crimes they are perpetrating against the Syrian Arab people."
Armed terrorist groups affiliated to Jabhat al-Nusra on Wednesday infiltrated Adra, a city home to housing compounds for workers, and committed a massacre against unarmed civilians.
A military source clarified in a statement to SANA on Thursday that "terrorists attacked the unarmed civilian citizens in their homes" in Adra, noting that "reports indicated that a massacre was committed against civilians by the terrorists."