Middle East
Syria
Turkey
Syrian army liberates two more towns in southeastern Idlib
The Syrian army has retaken control of two more towns in the northwestern Idlib province during the ongoing campaign against foreign-sponsored Takfiri militants in their last major stronghold.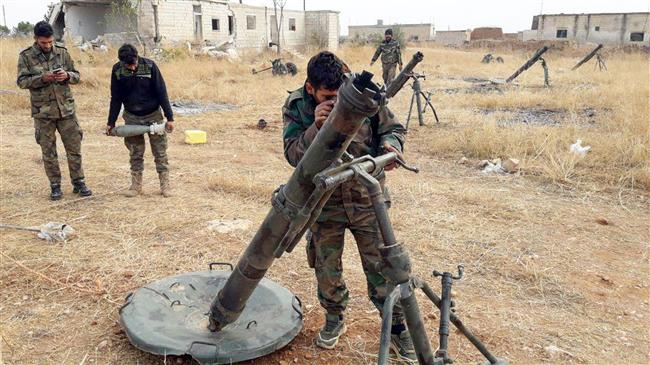 Syria's official news agency SANA reported on Monday that army units had liberated the towns of Joubas and San as they continued their military operations against the foreign-backed Takfiri terrorists near the city of Saraqib in Idlib.
SANA also reported that the Syrian army units continued to advance in Idlib countryside, liberating Taranaba village west of Saraqib and cutting off terrorists' supply lines between Saraqib and Ariha.
The new achievements came a day after Syrian government forces liberated the villages of Inqrati, Kafr Battikh and Kafr Dadikh, inflicting heavy losses on Jabhat Fateh al-Sham militant group, formerly known as al-Nusra Front, southwest of Saraqib.
Syrian troops liberate more towns, villages in Idlib, AleppoThe Syrian army retakes more villages in the northwestern Idlib province as part of an operation to liberate the last major terrorist-held territory in the Arab country.
The report added that four Turkish soldiers were killed and 9 others wounded during the operations targeting terrorists' positions in the southeastern countryside of Idlib.
SANA noted that Turkish military forces retaliated and targeted the Syrian army units, but there were no reports of damage or injuries.
Contradictory reports as Turkey claims bombing Syrian troopsTurkey says it launched airstrikes in Idlib, with President Recep Tayyip Erdogan claiming the raids were in response to Syrian attacks on Turkish forces.
On Sunday, Turkey reportedly brought in a new column of military forces and hardware to be deployed in Idlib.
The deployment came only two days after President Recep Tayyip Erdogan said Turkey may launch a military operation there if the ongoing offensive by Syrian government forces against foreign-sponsored Takfiri militants continues.
The so-called Syrian Observatory for Human Rights, a London-based war monitor, citing sources requesting anonymity, reported that a Turkish military convoy had already been positioned in the entrance of Kafr Amim village, which lies in the Saraqib Nahiyah district of Idlib province.
Turkey dispatches large military convoy to Syria's Idlib province: Observatory Turkey has reportedly dispatched a large military convoy to be deployed in Syria's northwest.
Syrian government forces are advancing against foreign-backed Takfiri militants in Idlib, tightening the noose around the extremists in their last major stronghold.
Syria's Ministry of Foreign Affairs and Expatriates wrote to the United Nations on January 25, stressing that the operation in Idlib and Aleppo against Takfiri elements "will not stop until the elimination of those terrorists, who threaten safety and security of Syrian civilians."
Idlib and the area north of Aleppo province form part of the only large territory in the hands of terrorists after the Syrian military managed to vanquish the foreign-backed terrorists across the country and bring back almost all of the Syrian soil under government control.
The Syrian army declared the start of an offensive against foreign-sponsored militants in Idlib on August 5 last year.
It came after those positioned in the de-escalation zone failed to honor a ceasefire brokered by Russia and Turkey and continued to target civilian neighborhoods.
Under the Sochi agreement, all militants in the demilitarized zone that surrounds Idlib, and also parts of the provinces of Aleppo and west-central province of Hama, were supposed to pull out heavy arms by October 17 2018, with the Takfiri groups having to withdraw two days earlier.