Syria
Syrian Army Purging Aleppo of Terrorists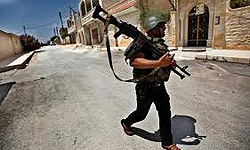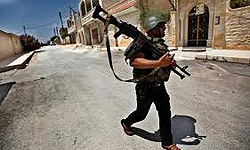 The Syrian Army forces are preparing for massive operations in Karam Al-Jabal neighborhood in the north of Aleppo city to purge terrorists from the city.
Clashes between Syrian army soldiers and terrorists in different districts of Aleppo on Monday resulted in the death of 60 terrorists and destruction of five vehicles equipped with machine guns.
The Syrian army has carried out four special operations in different districts of Aleppo during which 16 vehicles equipped with machine guns were destroyed and tens of terrorists were killed.
The army also killed several terrorists in Aleppo's Bustan al-Pasha and Salehin districts.
On Friday, the Syrian army purged the terrorists from Aleppo's districts of al-Sakhor and Suleiman Pasha.
The army also chased terrorists in different districts of Damascus, including al-Qudsiya district on Saturday and inflicted heavy losses and casualties on them.
Syria has been experiencing unrest since March 2011 with organized attacks by well-armed gangs against Syrian police forces and border guards being reported across the country.
Hundreds of people, including members of the security forces, have been killed, when some protest rallies turned into armed clashes.
The government blames outlaws, saboteurs, and armed terrorist groups for the deaths, stressing that the unrest is being orchestrated from abroad.
In October 2011, calm was eventually restored in the Arab state after President Assad started a reform initiative in the country, but Israel, the US and its Arab allies are seeking hard to bring the country into chaos through any possible means. Tel Aviv, Washington and some Arab capitals have been staging various plots in the hope of stirring unrests in Syria once again.
The US and its western and regional allies have long sought to topple Bashar al-Assad and his ruling system. Media reports said that the Syrian rebels and terrorist groups have received significantly more and better weapons in recent weeks, a crime paid for by the Persian Gulf Arab states and coordinated by the United States.