Syria
Syrian army recaptures villages, areas in Aleppo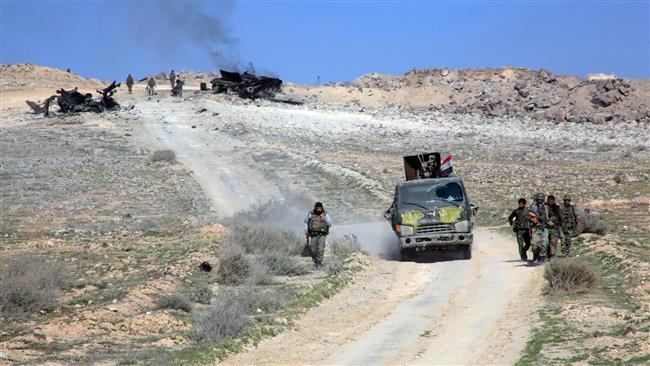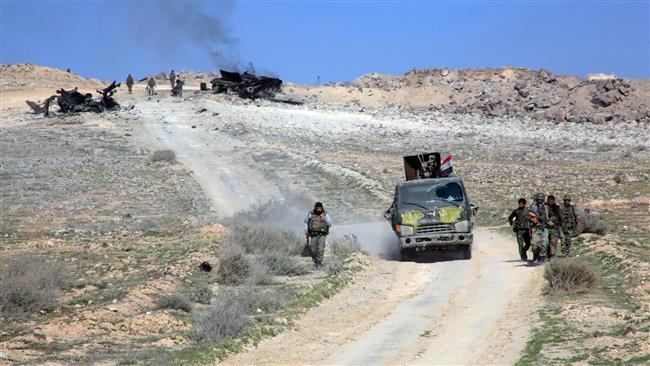 Syrian army soldiers have cleared several villages and areas of Takfiri Daesh terrorists in the northern province of Aleppo, a military source says.
In a Thursday statement, the unnamed official said army units established control over the villages of Haiyat kabeera, Haiyat Sagheera, Zabad al-Taweeleh, al-Qleah, Heleh, Hakeel and Kherbet al-Mous as well as Dareehem field and al-Bohouth Hill after fierce clashes with Daesh militants, Syria's official news agency SANA reported.
The liberated areas extend 12 kilometers (7.4 miles) deep and 9 kilometers (5.5 miles) wide to the east of the town of Khanasir.
Engineering units dismantled the explosive devices and mines that the terrorists left behind before fleeing the troubled areas.
Elsewhere in the west-central Hama Province, the Syrian forces killed more than 70 Nusra Front terrorists and destroyed five vehicles equipped with machine guns.
An unidentified military source told SANA that the militants had infiltrated into some parts of Hama.
Syrian forces have recently been making rapid advances against terrorists, who are committing heinous crimes against all religious groups, in several parts of the crisis-hit country.
The recent advances of the Syrian forces against Daesh and other terrorist groups have been expedited by the air cover provided by Russia, which began on September 30, 2015, at the request of the Damascus government.
The crisis in Syria, which flared in March 2011, has so far claimed the lives of over 470,000, according to some reports.