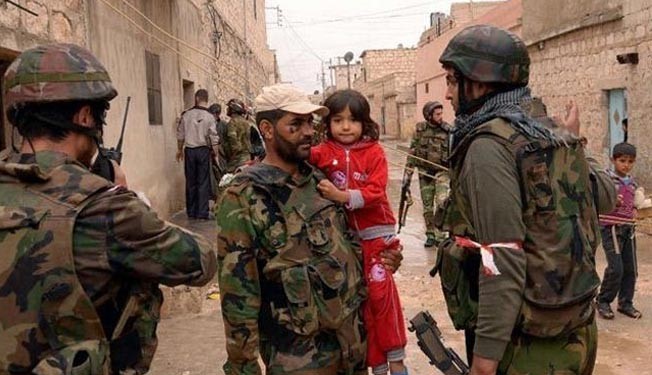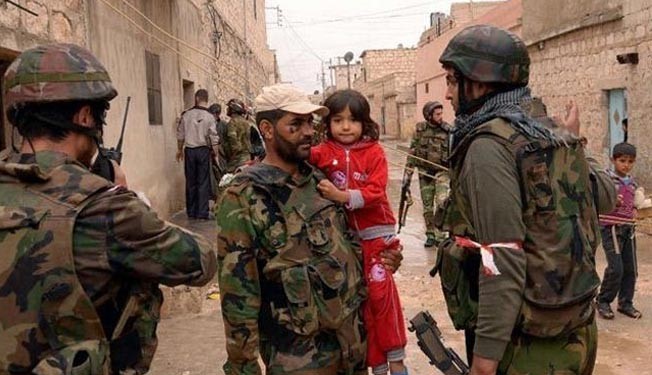 Syrian army forces have regained full control of a strategic town south of the capital Damascus following heavy clashes with foreign-backed militants.
The state television said on Wednesday that following days of clashes with foreign-backed militants "The army has taken town of Hajira," Press TV reported.
"The town is totally under the control of the army after three days of fighting. This has tightened the noose on armed terrorist groups," said a senior security official, adding, "It gives a new dimension to securing the southern entrance of Damascus and cutting supply lines to the terrorist groups present south of Damascus."
On Tuesday, in the flashpoint city of Homs, Syrian troops seized several vehicles equipped with heavy machinegun and killed their drivers.
Also on Monday, the Syrian troops carried out a military operation against Takfiri militants in the key neighborhood of Barzeh, located north of Damascus, inflicting heavy losses on them.
On Sunday, Syrian soldiers regained full control of a strategic base, dubbed Base 80, near Aleppo International Airport.
Syria has been gripped by deadly unrest since 2011. According to reports, the Western powers and their regional allies — especially Qatar, Saudi Arabia, and Turkey — are supporting the militants operating inside Syria.
According to the United Nations, more than 100,000 people have been killed and millions displaced in the violence.