Syria
Syrian Army Repels Takfiris' Attacks near Damascus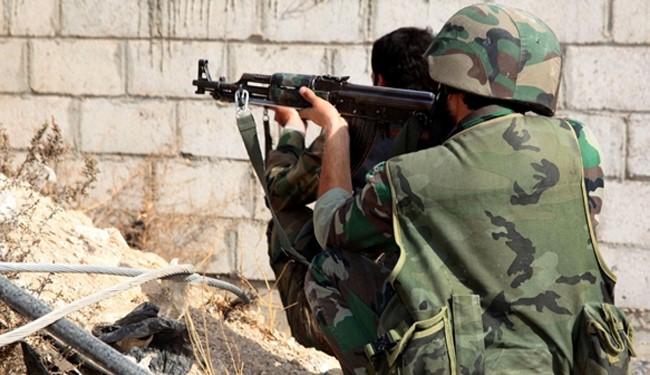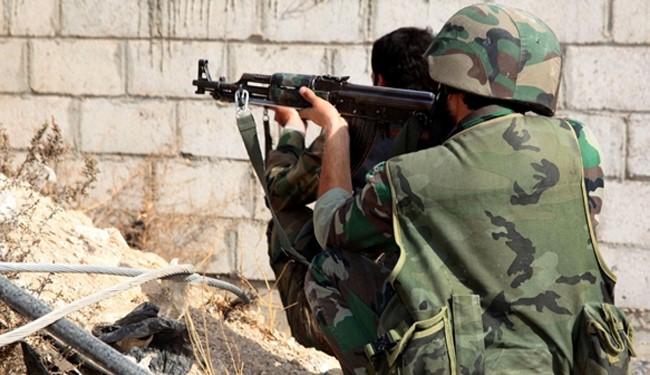 Syrian armed forces have managed to repel attacks by Takfiri terrorists on Harasta, a northeastern suburb of the capital, Damascus, as they continue to make more gains in their anti-terror battles.
On Saturday, the Syrian army pushed Takfiri militants out of Harasta a day after the foreign-backed terrorists infiltrated into residential areas in the east of the suburban city.
Syrian armed forces are now trying to force the Takfiris further back into the militant-held region of eastern Ghouta near the capital.
The Syrian soldiers are currently "in Harasta suburbs where militants tried to enter. They failed because we fought with them. They came from the international highway, but we have repelled their attacks," a member of Syria's National Defense Forces told Press TV.
This is while the civilians have refused to abandon their homes in Harasta despite fierce clashes, saying that they will not allow the militants to disrupt their normal life. According to reports, shops are still open in the region and people regularly go to work.
"Everyone is going to work. Fighting is outside, not inside. We are not afraid. If I had been afraid, I wouldn't have come to work," said a resident.
Harasta residents have also vowed to continue their resistance until they flush all the extremists out of the restive region.
"We will not run away. We will remain here and go to our jobs. We tell the terrorists we will gain victory," another resident told Press TV.
Syria has been facing a foreign-backed militancy since 2011. According to reports, the violence has so far claimed more than 240,000 lives; Press TV reported.