Syria
Syrian Army Retakes Darya Town after Fierce Clashes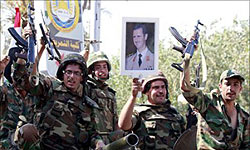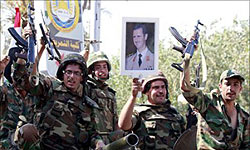 The Syrian army regained control in almost the entire town of Darya near the capital city of Damascus on Sunday after dismantling a terrorist group and killing its ringleader.
According to FNA dispatches, the Syrian Army killed Abu Ali Khabiya, a terrorist ringleader, and 18 of his troops after fierce clashes.
The army is expected to find full control over the city in the next few hours.
The Syrian Army killed dozens of the members of the so-called Free Syrian Army (FSA) and al-Qaeda terrorist group in several operations in Reef (outskirts of) Damascus, Southern Syria, in the weekend.
Tens of armed rebels were killed in a massive operation launched by the Syrian Army's command center in Darya district, in the outskirts of Damascus, against an al-Qaeda branch in Syria called "A Front to Support Syrians".
The terrorists had occupied houses of Darya residents and targeted Syrian citizens and Army forces from their hideouts.
The Syrian Army confiscated the rebels' arms and destroyed a bomb production plant after confiscating its equipment.
Terrorists have tried hard in the last several days to make Syrian cities unsafe for citizens, but the army has purged them from most neighborhoods and districts, killed tens of them and arrested many others.
Syria has been experiencing unrest since March 2011 with organized attacks by well-armed gangs against Syrian police forces and border guards being reported across the country.
Hundreds of people, including members of the security forces, have been killed, when some protest rallies turned into armed clashes.
The government blames outlaws, saboteurs, and armed terrorist groups for the deaths, stressing that the unrest is being orchestrated from abroad.