Syria
Syrian Army Sends Big Military Convoy to Palmyra for Final Battle against ISIL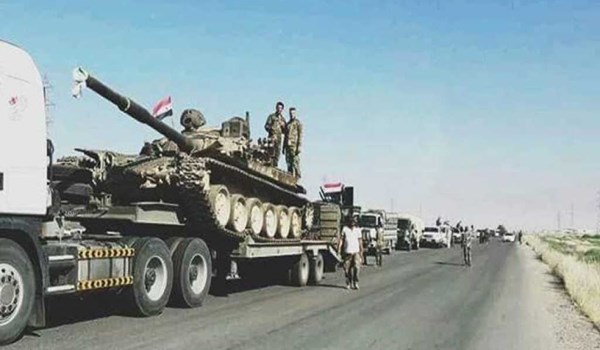 The Syrian army has dispatched a long military convoy to Badiyeh (desert) region of Palmyra in Eastern Homs to cleanse the remnants of the ISIL terrorists.
Field sources in Syria reported on Thursday that the army's convoy consisted of a large number of forces and military equipment and was sent to Badiyeh region in the Eastern parts of al-Sukhnah city in Eastern Homs to strengthen the military points.
They added that the Syrian army dispatched forces to the region after the ISIL's repeated attacks against the army positions, noting that Damascus intends to fully purge the ISIL terrorists from the region.
Thousands of the ISIL militants have occupied a 4,000-sq/km region from Northern Palmyra to Northern al-Sukhnah and the Western borders with Deir Ezzur province.
A source told the Arabic-language al-Masdar news website earlier this week that an estimated 1,500-3,000 ISIL terrorists were believed to be active in Badiyeh al-Sham region located in Central Syria.
In a relevant development last week, the Syrian army continued its military operations against the remnants of the ISIL terrorist group in the depth of Palmyra desert in Eastern Homs, inflicting heavy losses and casualties on the terrorists.
The Damascus army troops engaged in heavy clashes with the ISIL terrorists in Palmyra desert, killing and wounding a large number of militants.
The army troops also pounded the terrorists' movements in Palmyra, and destroyed several hideouts and military vehicles carrying heavy weaponry.
A large amount of terrorists' military equipment, including mortars, missile-launchers, RPGs, machineguns, ammunition and medicine were also destroyed in the Syrian army attacks.