Middle East
Syria
Syrian Army Sends Fresh Forces to Hama, Idlib to Cleanse Demilitarized Zone
The Syrian army has dispatched several new military convoys to Northern Hama and Southern Idlib to purge the terrorists from the demilitarized zone as militants continue attacks on residential areas in Northern Syria.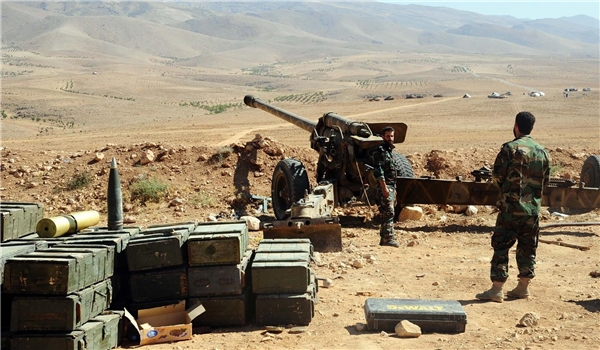 Field sources in Northern Syria reported on Tuesday that the Syrian army has sent a large number of fresh forces and tens of military vehicles and equipment from Damascus to the battle fronts in Northern Hama and Southern Idlib.
They added that hundreds of army forces have also been sent to Karnaz in Northern Hama, noting that the Syrian army wants to retake control of the strategic Tal Malah and Jabin regions.
Meantime, the Arabic-language al-Watan newspaper reported that the convoys have been sent to Northern Syria in line with plans to prepare the army for extensive military operations in Northern Hama and Southern Idlib and cleanse the demilitarized zone from militants who use the region for repeated offensives against the military positions and safe towns and villages in Northern Syria.
The Syrian army troops targeted Tahrir al-Sham al-Hay'at (the Levant Liberation Board or the Al-Nusra Front) terrorist groups' positions in Murak, Kafar Zita, al-Latamineh, al-Arbaeen, al-Jabin and al-Qastoun in Northern Hama and Southwestern Hama and Kafar Sajnej, Sheikh Mostafa, Arinabeh, Mara'anad and Badama in Southern Idlib with heavy artillery and missile fire in response to the militants' continued attacks, inflicting heavy damages and tolls on them.
Also, terrorist groups stationed in the town of Khan Touman in Idlib and al-Rashedeen region in Southwestern Aleppo launched rocket attacks on the town of al-Wazihi and the New Aleppo and al-Hamdaniyeh districts in Southern Aleppo, killing 13 civilians and wounding 15 others, including children, who had participated in a wedding ceremony in al-Wazihi.
In a relevant development last Tuesday, the Syrian army dispatched massive military convoys to Northern Hama and Southern Idlib as heavy fighting between the two sides inflicted tens of casualties on the terrorists.
A military convoy comprising hundreds of Syrian soldiers and massive military equipment were dispatched from Hama Airport to contact lines with terrorists in Northern and Northwestern Hama as well as Southern Idlib to reinforce the Syrian Army's military positions in those regions.
Three military convoys comprising tens of military vehicles carrying military equipment and a large number of fresh troops arrived in Northern Syria from Damascus province.
Al-Watan newspaper reported that the Syrian Army's artillery units and air force as well as the Russian air force pounded the terrorists' military positions and movements in all fronts in Northwestern Hama and Southern Idlib, including the towns of Kafar Zita, Mourak and al-Latamineh, destroying all their military positions and killing tens of terrorists.
Meantime, sources affiliated to the militants admitted that at least 52 terrorists, including two notorious commanders of Jeish al-Izza terrorist group, namely Mohammad Khaled al-Saba and Yasser Ahmad al-Helal were killed.