Middle East
Syria
Syrian Army to Launch Imminent Operations to Cleanse Western Aleppo from Terrorists
The Syrian army is planning for purging operations against the terrorists in the occupied regions of Western Aleppo as militants continue daily attacks on civilian areas in the region.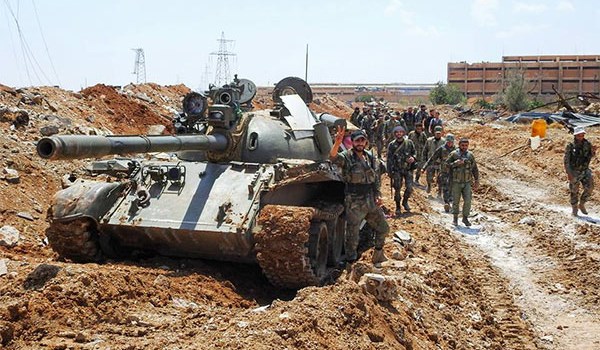 The Arabic-language al-Masdar news website quoted a military source in the Syrian army as saying on Wednesday that the army wants to launch military operations against the terrorist groups in Northwestern, Western and Southwestern Aleppo.
He added that in particular, the Syrian army is first eyeing the Scientific Research area and Al-Zahra'a Association Quarter; these two areas have a large presence of terrorists and Turkish-backed militants.
Once these areas are cleared, the Syrian army will shift their attention to the outskirts of the city, where militant groups in Al-Mansoura, Kafr Hamra, Dart Izza, Khan Al-Assal, and Rashideen 4 and 5 are constantly launching attacks from, the source said.
Al-Watan also referred to the daily attacks by the terrorists in Western Aleppo on safe areas of Aleppo, specially al-Zahra, al-Sabil, al-Hamdaniyeh, new Aleppo and Share'e Tishrin regions, stressing that residents of these regions have called for army operations and establishment of security.
According to the report, the Syrian air force destroyed the terrorists' positions in Ikarda and first Mohandeseen regions in Southwestern Aleppo and one of their convoys moving on Aleppo-Saraqib road towards the regions of conflict in Southern Idlib and Northern Hama.
In a relevant development on Wednesday, the Syrian Army pounded the military bases and movements of Tahrir al-Sham al-Hay'at in Aleppo in response to the terrorist group's attacks on civilian camp which resulted in the death and injury of tens of people.
The Tahrir al-Sham terrorists stationed in Western Aleppo launched several attacks on al-Nayrab Refugee Camp in Aleppo which resulted in the death of eight people, including several children and injury of 14 others.
Meantime, several civilians were killed in Tahrir al-Sham's mortar attacks on al-Jamileh district in the center of Aleppo city.
A battlefield source, meantime, pointed to the spread of mortar and rocket attacks in the towns of Nubl and al-Zahra in Northwestern Aleppo, and said that in response the Syrian Army's missile, artillery and tanks units pounded the military positions and movements of the terrorists in all battlefronts of Western and Northern Aleppo, including the towns of Kafar Hamreh, Haritan and Andan Ma'areh al-Artiq.
The source reiterated that several military bases and positions of the terrorists in Haritan and Kafar Hamreh were destroyed in the Syrian Army attacks and all terrorists inside them were killed.