Syria
Syrian Army Troops Seize ISIS-Held Town of Al-Quaryatayn near Palmyra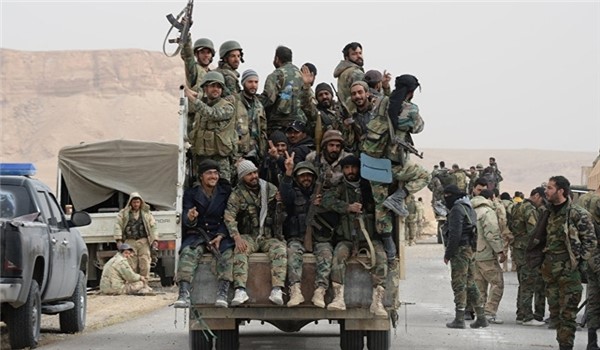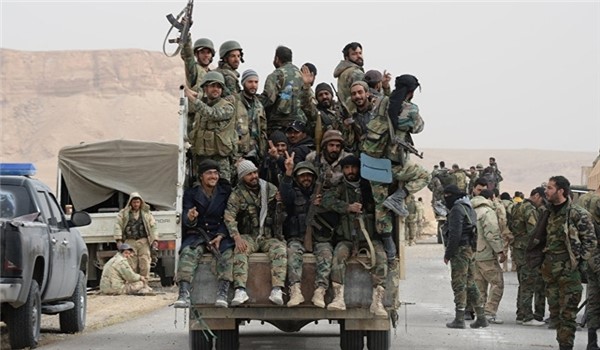 Syria's government forces have retaken control of the central town of Al-Quaryatayn, which is under the control of ISIS group, as part of Damascus's fight against Takfiri militants.
Syrian troops, backed by Russian airstrikes, forced their way into Al-Quaryatayn on Sunday from a number of directions.
According to SANA news agency, Syrian forces are clearing the area from ISIS-planted explosives.
Al- Quaryatayn is located 100 km west of the ancient city of Palmyra that was recently liberated from Daesh (ISIS / ISIL) control by government forces. Al-Quaryatayn had been under the Takfiri group's control since last August.
The so-called Syrian Observatory for Human Rights also reported the entrance of Syrian forces into the town and said that fighting continued between both sides.
"Practically speaking, the town can be said to have fallen militarily, because the regime controls the surrounding hills," said Rami Abdurrahman, the group's director.
The group also noted that Russian and Syrian planes carried out 40 airstrikes near Al-Quaryatayn.
The Syrian soldiers have now been clearing bombs and landmines planted in Palmyra by ISIS. They have so far detonated 500 mines in Palmyra's urban areas while the number of those undiscovered remains unknown.
Syria has been gripped by militancy since 2011. According to a February report by the Syrian Center for Policy Research, the conflict in Syria has claimed the lives of over 470,000 people in total.