Syria
Syrian Cabinet Amends Decrees on Industrial Cities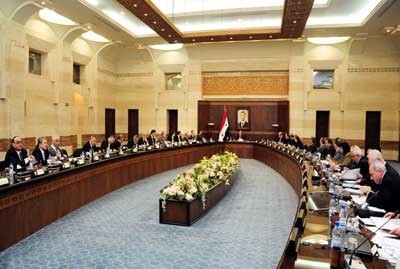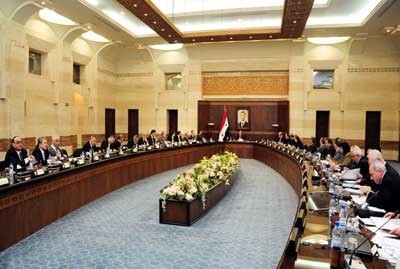 In a session chaired by Prime Minister Dr. Wael al-Halqi on Tuesday, the Cabinet denounces the terrorist attacks which targeted al-Mazra'a and al-Qaboun areas in Damascus and other areas in Syria, resulting in the death of innocent civilians.
The Cabinet said that the escalation of the terrorists' attacks shows their fruistration over the success of the Armed Forces in repelling them and affirms the terrorists' responsibility for continuing violence and hindering efforts to resolve the crisis through peaceful and political means.
Deputy Prime Minister for Services Affairs, Minister of Local Administration Omar Ghalwanji briefed the Cabinet on the state of health, water, electricity, transport and communications services.
Deputy Prime Minister for Economic Affairs, Minister of Internal Trade and Consumer Protection Dr. Qadri Jamil reviewed the current economic situation and the availability of essential goods, while Health Minister Dr. Saad al-Nayef reviewed the state of health services and the damage caused to the health sector by terrorism.
State Minister for National Reconciliation Affairs Dr. Ali Haidar briefed the Cabinet on the State Ministry's activities and meetings during the past week.
The Cabinet discussed the mechanisms of transporting petroleum products and decided to form a committee to study the costs of transporting fuel and amending its fees.
Afterwards, the Cabinet approved a bill on amending decrees no. 57 for 2004 and no. 26 for 2003 on industrial cities.
The Cabinet also approved a decision on forming committees to waive some dues for income taxpayers for facilities, shops and offices damaged due the current events, in addition to a decision on reforming the Higher Committee for Relief.