Syria
Syrian Forces Advancing Against US-Backed Terrorists Regardless of Washington Threats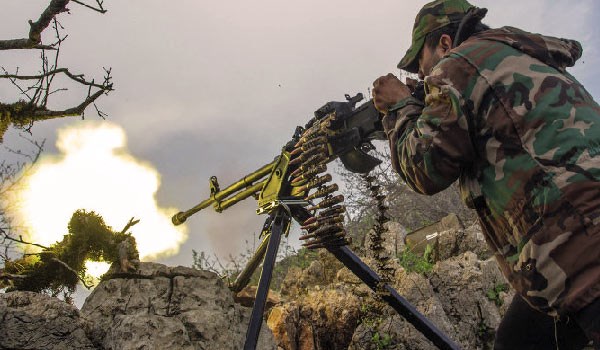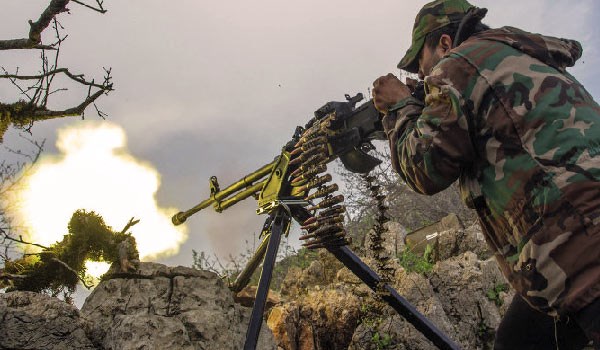 The Syrian army advanced over 1,400 square kilometers in Syria's Badiyeh (desert) in line with its military operations against the ISIL terrorist group and in a bid to approach al-Tanf border crossing regardless of the US threats.
"The Syrian army and its allied forces managed to advance 1,400 square kilometers in Badiyeh region East of Palmyra (Tadmur) over the past 24 hours," a military source said.
The military source went on to say that the Syrian army continued its advances from point Moqhi al-Shahmieh and reached Jaliqam intersection which is connected to al-Tanf passage and Jordan borders.
The military source reiterated that the army troops inflicted heavy casualties on ISIL terrorists and the military operations are still underway.
The Syrian Army had managed to secure over 5,000 square kilometers of the Syrian Desert from the clutches of ISIL during the first stage of a special military operation.
According to a military source, all objectives of the first stage of Operation Grand Dawn – secure the Damascus-Palmyra route and the Khneifis phosphate mines and factories (chief source of this mineral in Syria) – have been accomplished.
The source stressed that the Russian Aerospace Forces provided air support to the advancing Syrian government forces, and have recently dealt a serious blow to the ISIL logistics' chain by obliterating a number of terrorist supply convoys.
Simultaneous with the rapid advances of the Syrian Army troops towards al-Tanf border-crossing the US-led coalition dropped thousands of leaflets over the army-controlled region calling on them to retreat from Southern Syria.
Meanwhile, the Syrian Army troops fortified their positions in Syria's Badiyeh in order to get ready for launching the next phase of their military operations against terrorists and sealing the border with Iraq.
Field sources also said that the Hashd al-Shaabi (Iraq's Popular Mobilization Forces) is ready to fight against ISIL along with the Syrian Army troops to free the strategic al-Tanf border-crossing.
The sources added that following deployment of forces at borders with Syria the Hashd al-Shaabi is coordinating with the Syrian army to jointly storm ISIL and free al-Tanf border town and region.
In a relevant development on Friday, the Syrian Army troops seized a number of US-made Humvee armored vehicles after capturing an ISIL base in Badiyeh in Eastern Homs.
The army men were carrying out cleansing operation in the newly-captured regions in Badiyeh when they discovered several High Mobility Multipurpose Wheeled Vehicle (HMMWV), commonly known as the Humvee, at the ISIL base.
The Humvee vehicles were equipped with communication devices and a number of bombs.
In the meantime, the army forces seized maquettes of armored vehicles, cannons and missile launchers used by ISIL to fool reconnaissance planes imaging the region.